Every year, New Braunfels hosts the Comal County Fair. Recent years have seen exhibits in antiques, agricultural products, poultry, tractor pulls, baked goods, horticulture exhibits, the PRCA Rodeo, bull riding, a carnival, and nightly dances! This year the fair took place during the last weekend in September, with four full days of fair activities and a parade one evening. The Comal County Fair BBQ Cook-off is a highly competitive event and a crowd favorite. The winners of the horticulture competition, baking, canning, wildlife, agriculture, and BBQ event all have their pictures featured on the Fair website and receive a certificate and/or ribbon honoring their achievement.
If you've never been to a county fair, you honestly don't know what you're missing. While the Comal County Fair may not have the spectacle or sheer size of the State Fair in Dallas, its family friendliness and atmosphere will provide you and your children with lifelong memories. It truly offers something for everyone, whether you're looking to compete or just to have fun. And of course, to eat!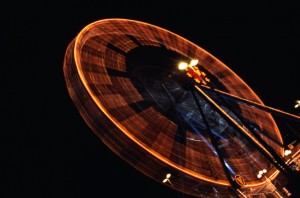 New Braunfels is a lively, active community. Although Vintage Oaks is a private, exclusive environment, we love having the opportunity to get out and get involved with our larger community. New Braunfels' population of 40,000 makes it big enough that there are lots of activities you can choose from, but still small enough that you can feel at home. We're fortunate to live in our own private wine oasis. Still, it's nice to know that so much activity and fun entertainment is always available and nearby, with new, interesting things constantly happening.
Vintage Oaks and New Braunfels both offer community living where the people are genuine and charming. This truly is a great way of life. To learn more about the Texas Hill Country, visit our website.