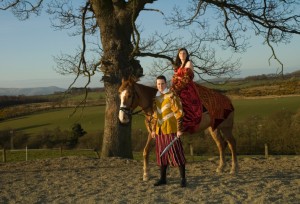 The people who live in New Braunfels know Prince Carl of Solms-Braunfels as the German settler who founded their town. But there's a lot more to his story than "just" settling his own town. Prince Carl was a German prince, and a military officer for both the Austrian army and the Grand Duchy of Hesse.
Prince Carl was born in 1812. Although he died in 1875, his 63 years marked an eventful life. In 1934 he married Baroness Luise Von Schonau, and the two of them had three children together. However, because his love for her was regarded as below his royal station, he was forced to annul their marriage.
Prince Carl, privileged and well-educated, was a restless man. He wanted to explore. It was this sense of adventure and exploration that eventually led him to Texas. Having read several books about Texas, Prince Carl decided to experience her soil for himself. In 1844, he purchased 1,300 acres on the Guadalupe River, where he would found the new town that was the namesake of his birthplace, New Braunfels.
When in 1844 Prince Carl met the woman who would eventually become his second wife, Maria Josephine Sophie, he built "Sophie's Castle" for her in Texas, known today as Sophienburg. Prince Carl was hoping to entice Sophie to leave her beloved Germany and join him there, but when she proved unwilling, he married her in Germany anyway in 1845, never to return to Texas. The two of them went on to have five children together.
Still seeking adventure, Prince Carl became actively involved in military opportunities, rising to the rank of colonel in the Grand Duchy of Hesse in 1846. He took part in the Austro-Prussian War, finally retiring as a field marshal in 1868. He died in 1875.
Thanks to Prince Carl's grand spirit of exploration, his beloved New Braunfels is a place that we can all call home. Under his leadership and courage, the town of New Braunfels established itself as a vibrant city with a rich history of German traditions and sensibilities. Vintage Oaks is proud to call New Braunfels home