Texas, "The Lone Star State," is the second largest state in the United States. Texas is abbreviated as TX, and our state capital is Austin. Our state's name is derived from a Caddo Indian word meaning "Friends." According to the 2000 census, more than 20 million people live in Texas. And here are a few more important Texas tidbits: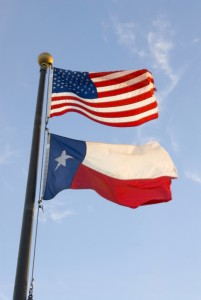 The Texas state motto is Friendship
Texas has 254 counties
Texas' largest cities are Houston, San Antonio, Dallas, El Paso and Austin
Texas has the second largest land mass, with 262,015 square miles
The highest point in Texas is the Guadalupe Peak at 8, 749 ft.
The lowest point in Texas is the Gulf of Mexico
The state bird is the Mockingbird
The Texas state flower is the Bluebonnet
The state fish is the Guadalupe Bass
Texas' state insect is the Monarch Butterfly
The state tree is the Pecan
Texas has two state mammals: The large state mammal is the Texas Longhorn, while the small state mammal is the Armadillo
The state reptile is the Horned Lizard
The state plant is the Prickly Pear Cactus
Texas' state pepper is the hot Jalapeno
The longest state right is the Rio Grande River, at a whopping 1270 miles long!
Southstar Communities is proud to have homesites in Texas. Texas is like no place else on earth. Both our Vintage Oaks and The Bridges at Preston Crossings properties are wonderful places to live, with many amenities. Vintage Oaks offers a vineyard lifestyle just 35 miles outside of San Antonio. Come see us today.