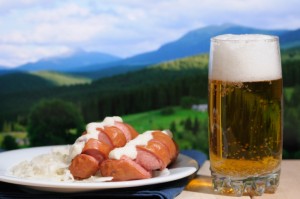 German Prince Carl of Solm-Braunfels established New Braunfels. The word Braunfels means "brown rock" in German. Embracing its German heritage and its Texan influence, the town actually holds Wurstfest, a world-famous festival to celebrate sausage.
Wurstfest is a ten-day annual celebration held every November. It all began in 1961; the Mayor of New Braunfels proclaimed that the city should host a festival to celebrate its local foods. That first celebration was called the Sausage Festival, then later evolved into Wurst Week, and eventually into what is known today as Wurstfest. The first Wurstfest welcomed more than 2,000 people attending, and it grows larger in fame and attendance year after year. Wurstfest is organized as a non-profit event designed specifically to promote local commerce and to preserve the German heritage and pride of New Braunfels. In 2010, when Wurstfest celebrated its 50th anniversary, it lasted from October 29 to November
Wurstfest is a great opportunity to have a wonderful time enjoying good food, lots of fun, community camaraderie, special events, and Bavarian entertainment. The festival takes place in Landa Park on weekday nights, and all day on the weekends. Rain or shine, Wurstfest is on! Admission is $8 for adults at the event, and $6 in advance. Children under 12 are admitted free, and special group rates are available. Admission is for the entire day.
Besides being a great form of family entertainment, Wurstfest benefits the entire community. Aside from New Braunfels, it draws family and friends from surrounding towns for days, a terrific opportunity to participate and connect with your neighbors. Vintage Oaks feels very fortunate that we get to participate in this annual celebration of New Braunfels' unique German heritage!