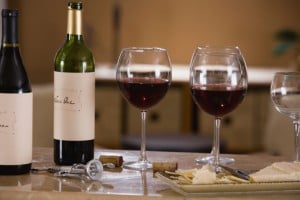 Every person's palate is unique. Determining your favorite combinations is largely a matter of personal taste. But everybody has to start somewhere, so we'd like to offer you some useful suggestions and give you some ideas:
Sauvignon Blanc we suggest pairing with white, light fish, mild cheese and fruit.
Chardonnay pairs well with grilled chicken, salmon, shellfish, grilled fish and anything with a cream sauce.
Pinot Noir is terrific with light meats like chicken and salmon.
Merlot can accompany pasta, red meats, duck and smoked foods.
Zinfandel goes well with tomato-based pasta dishes, pizza, pesto, red meats and chicken.
Cabernet Sauvignon can be a nice complement to red meats, barbeque, grilled and smoked foods.
Syrah is best with red meats, spicy meals, turkey and smoked meats.
Of course, all of these are only suggestions. Your mileage will vary, based upon your own tastes. The best advice we can offer for deciding which wines to pair with which foods – experiment. Try a couple of wines at a time. Taste one wine just by itself. Then take a drink of water or eat something bland (such as a cracker or bread) to numb that flavor. Then try the other wine. Cleanse again, and then taste the food. Then add one of the wines and see how they perform together. Cleanse again, and then try the food with your second wine. What you're trying to achieve is complementary flavors. Wines that "match" a food enhance its flavor, and vice versa. You can even try planning an entire, special meal around a particular bottle of wine. If there's a special wine you'd like to try, or a special event you think you might like to celebrate with wine, then coordinate the two from the start.
Most restaurants offer wine pairing as a complimentary (free) service. Of course, that's the easiest way to learn—allow someone experienced and trained to help you decide what to pair with whatever you're eating. That way, you can simply enjoy your meal. But when you find some combination that you particularly enjoy, be sure to make note of it. You may want to revisit that pairing again.
Located in the heart of the Texas Hill Country, Vintage Oaks is surrounded by twenty-four local wineries, all of which offer tours, courses, wine stompings and other special events. We love wine and the lifestyle it represents. Vintage Oaks has an outdoor kitchen for your personal enjoyment and to suit your entertainment needs for your guests. We're beginning construction soon on our own planned vineyard, where we'll be harvesting delicious Black Spanish Grapes!
The next time you're trying to decide which bottle of wine you want to open with dinner, we hope you'll take our suggestions into consideration. If you enjoyed this blog post, please share it with your friends. We'd also love to connect with you on Facebook and Twitter.