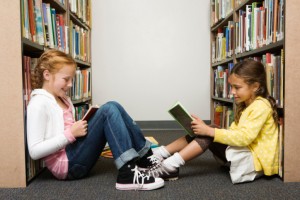 The New Braunfels Public Library is the library that serves residents of Vintage Oaks at the Vineyard. The library's stated mission is to "be responsive to the public library needs of the community by providing access to informational, educational, cultural, and recreational library materials and services." Beyond providing resources and timely access to materials and information, the library also prides itself on outstanding customer service, dedicated to meeting the intellectual needs of its community. Regardless of your age or interest, the New Braunfels Public Library has volumes available that will inform and entertain you.
Besides providing a safe, comfortable environment for reading, study, and reflection, the New Braunfels Public Library also hosts special events where city residents have the opportunity to participate in fun educational activities. In recent months, the library sponsored special reading weeks and several other signature events. For example, every summer, the library coordinates a Teen Summer Reading Event, which they kick off with knights who joust in full regalia and battle armor. To celebrate Halloween, the library organized a competition for the best Halloween costume based on a book or film. (They even provided sugar skulls for their guests and participants.) The library frequently hosts well-known speakers, reading events and other activities designed to engage the community's interest.
In addition to the many books on hand in its on-premises collection, the New Braunfels Public Library also offers downloadable audio books and e-books. They even recently dedicated an entire section specifically to graphic novels, a quickly growing collection located in the "Fiction" section.
You can find the New Braunfels Public Library at 700 East Common Street in town. The library is open daily during the following hours:
Monday through Friday 9am–6pm
Saturday 9am–5pm
Sunday 1pm–5pm
The residents of Vintage Oaks at the Vineyard are fortunate to have easy access to such a pleasant facility, particularly one as devoted to service as the New Braunfels Public Library.