Are you flying to New Braunfels this holiday season to visit family? If you haven't looked into New Braunfels' travel amenities yet, you'll be pleased to learn that no matter where your flight originates, Vintage Oaks is easy to get to, right in the heart of Texas Hill Country.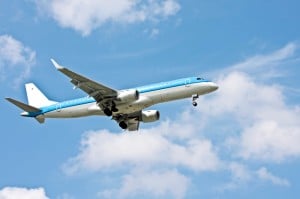 New Braunfels Municipal Airport (BAZ) provides an easy way for you to fly directly into the Texas wine country. In 2001, New Braunfels Municipal Airport opened a new terminal building, bringing it up to more than 5,000-square-feet of terminal access. The New Braunfels Municipal Airport offers restrooms, showers, a meeting room for pilots and passengers alike, as well as a VIP pilots' lounge.
The closest large airport to Vintage Oaks is San Antonio International Airport (SAT). San Antonio International hosts all of the major airlines, such as AirTran, Delta, Southwest, United, US Airways, American, and Continental, to name just a few. The San Antonio Airport also has more than 40 restaurants, several gift shops, business centers, banking and other amenities. In fact, the San Antonio International Airport's amenities program, known as "SA on the Fly," was nominated in 2009 for the Best Concession Program for medium-sized airports. You'll find all the standard services here: rental cars, taxis, shuttle service, hotel shuttles, bus service, chartered bus service and limousine service.
Another option if you're flying in is Austin-Bergstrom International Airport (AUS). Because it's 63 miles away, Austin-Bergstrom International is further from Vintage Oaks than your other airport options. However, if for any reason one of our other fine airports can't accommodate your needs, Austin-Bergstrom is a nice facility, offering non-stop service to 38 destinations. AUS is serviced by American, Continental, Delta, JetBlue, United, US Airways and many more.
Vintage Oaks is just 35 miles outside of San Antonio, so it's easy to get to. If you're within a comfortable driving distance, that's great! But even if you have a longer distance to travel to make it to our beautiful Texas Hill Country, we still have several very nice options available to you.