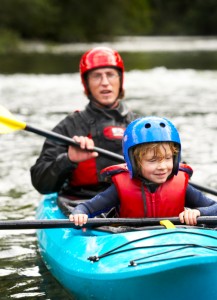 If you've been looking for a great place where your family can observe nature and wildlife in its natural habitat, look no further than the Aquarena Center in San Marcos, Texas. Visitors ride in glass bottom boats and walk the aquarium as they enjoy the variety of educational and outdoor activities offered.
The attraction first began in 1946 as an amusement park, then called Aquarena Springs. After launching the first glass bottom boat in 1946, the park continued to expand, eventually including even a submarine underwater theatre. In 1994, the Texas State University-San Marcos purchased Aquarena Springs and transformed this former theme park into what is now an educational and preservation effort.
Not only has the University studied the 90 acres of land occupied by the center and documented its habitat, but they've also led an effort for education, preservation and research on behalf of Texas State. The center provides refuge for eight endangered species, including the blind salamander, the fountain darter, the Comal Springs Riffle Beetle, the Comal Springs Dyropid Beetle, Peck's Cave Amphipod, the San Marcos Gambusia, Texas wild rice and the San Marcos Salamander.
Today, the Aquarena Center is not only educational, but it also offers a variety of fun activities for visitors. From glass bottom boats to kayak tours, the center offers a variety of resources for education and outdoor recreation. You can even rent out the Aquarena Educational Center for birthday parties, Boy and Girl Scout troops, school field trips and other large groups.
The residents of Vintage Oaks are fortunate to have such a great educational resource nearby. Just 20 miles from the heart of Texas Wine Country, The Aquarena Center in San Marcos makes for a perfect afternoon excursion with the family.