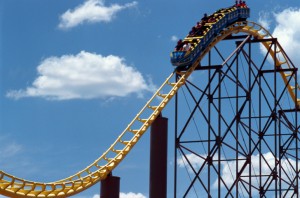 Six Flags is known throughout the world as the very best in roller coaster parks. Here at Vintage Oaks, we're fortunate to have our very own Six Flags Fiesta Texas in nearby San Antonio, Texas.
Six Flags has something for everyone: from "kiddie" rides to the more daring rides aimed at thrill-seekers, Six Flags Fiesta Texas has everything you hope for in an amusement park. The Ferris wheel, go carts, haunted houses, carousel and boat rides will keep the more traditional park goers happy, while unique rides and rollercoasters will bring out the daredevil in all of us.
Speaking of daredevils, the aptly named "Scream" launches its riders 20 stories above the park, where they can catch a great view of San Antonio before plummeting back to earth. Roller coasters Boomerang and Goliath keep riders coming back for more. During the holiday season, visitors can enjoy Frostee's Skating Rink, a rare opportunity to experience modern iceless skating in South Texas.
In addition to its various attractions, Six Flags Fiesta Texas has a variety of family-friendly entertainment venues. And don't forget, Six Flags Fiesta Texas has all of the best amusement park foods you've been craving: funnel cakes, popcorn, hotdogs, ice cream, pizza…Six Flags Fiesta Texas has it all, ready for you to enjoy! When you're done snacking on the goodies, you'll even find a Johnny Rockets, Poppin' Thrills and beverage carts all ready to serve you.
While you're there, don't forget to visit the White Water Bay Water Park. Admission to the water park is free with your admission to Six Flags Fiesta Texas. Open during the spring and summer months, White Water Bay is a wonderland of tubes, rides and slides. Don't miss the giant wave pool in the shape of Texas!
Six Flags Fiesta Texas is located in San Antonio, just 35 miles from Vintage Oaks in the Texas Hill Country.