One of the most well-known historic landmarks in all of Texas, the Alamo is the site of a battle that has long captured the imagination of history buffs everywhere.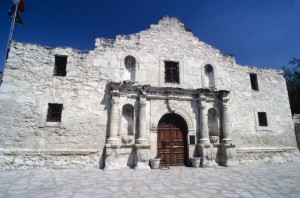 Constructed in 1724, the Alamo (known then as Mission San Antonio de Valero) was home to missionaries and their Indian converts for nearly seventy years. In 1793, Spanish officials divided the land and parceled it out to the remaining Indian residents. These Indians continued to farm the land, contributing to the agricultural industry of San Antonio.
In the 1800s, the Spanish military stationed a cavalry unit in the mission and gave it a new name—the Alamo. The first hospital in Texas was established in the old priests' quarters.
The mission changed hands several times throughout the years. Then in December of 1835, during the Texas Revolution, Ben Milam led the Texans (or Texians) and the natives in a battle against the Mexican troops who were occupying the Alamo. After an intense five days, Mexico was forced to surrender.
The Texians victoriously occupied the Alamo, and in the following months, were able to drive Mexican troops completely out of Mexican Texas. But Mexico struck back, sending 1,500 troops into San Antonio. In February of 1836, General Antonio Lopez de Santa Anna's army prepared to fight the Texians and the natives to regain control of the Alamo.
On February 26, 1836, the Battle of the Alamo began. It would continue for a grueling thirteen days. Despite repeated pleas for reinforcements, few came to aid the Texians. As the story goes, all of the men except one were willing to give their lives rather than surrender to General Santa Anna.
Mexican soldiers eventually overtook the Alamo, slaying hundreds of the Texians and natives inside. Today, the Alamo continues to be the shrine of Texas liberty. Among the most well-known fighters at the Battle of the Alamo were Davy Crockett and Jim Bowie.
The battle over Texas land was a bitter one. The story of the Alamo is an integral part of the rich history of the Lone Star State, and Vintage Oaks is fortunate to have such a meaningful landmark just a short drive away.
Southstar Communities has affordable home sites available now. For more information, contact us, or come by and see us any time.