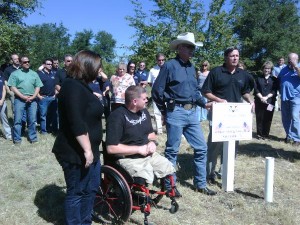 Share welcome and thank you messages on Senior Airman Colton and Jessica Read's new home framing. Vintage Oaks and Jimmy Jacobs Custom Homes are honoring the Read's with the land and new home through a program called Operation FINALLY HOME.
When: Saturday, February 12, 2011 or Sunday, February 13, 2011
Anytime between 12 p.m. and 5 p.m.
The Reads are scheduled to visit the home on Sunday at 2 p.m.
Where: Vintage Oaks at the Vineyard, 1110 Vintage Way, New Braunfels, TX 78132
Stop by the Vintage Oaks Discovery Center at the front entrance and a Vintage Oaks staff member will be happy to escort you to the Read's new homesite or you may follow the signage directly to it. Guests are free to come and go.
Directions: From Hwy 46: Turn onto Vintage Way into the Vintage Oaks community. Turn right on Appellation and follow the signs to the homesite.
Questions or to RSVP, Call: 800-303-6780