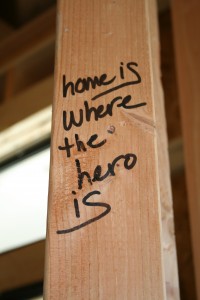 We had a wonderful time yesterday with the Read family! The family enjoyed reading all the messages of welcome and thank you that the community had written on their home's framing. We want to thank everyone who participated in such a heartwarming event.
Southstar Communities and Jimmy Jacobs Custom Homes have donated land and a new home to Colton and Jessica Read through Operation FINALLY HOME, an organization that provides homes to wounded and disabled serviceman, veterans and widows of fallen soldiers. Senior Airman Colton Read lost both of his legs during a routine gall bladder surgery that was required before his deployment to Iraq.
To view more picture from this exciting event please visit our Facebook page by clicking here.