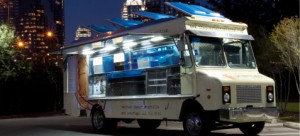 Kicking off the summer, this past Saturday Vintage Oaks at the Vineyard hosted its biggest event of the year to celebrate the unique Texas Hill Country lifestyle. Attendees from all over Texas came out to enjoy the culinary delights featured at this event.
The Vintage Oaks community was bustling with guests eager to taste treats from the most popular Austin "gourmet food trucks". Attendees enjoyed their nosh as they toured the Texas Hill Country community known for its gorgeous wine trail, huge oaks and breathtaking views. Vintage Oaks hosted the "Gourmet Food Truck Tour, Taste & Land Sale" to provide guests with the opportunity to see why it's such a one-of-a-kind place to live.
While enjoying the culinary creations from CoolHaus, Chi'Lantro, The Peached Tortilla, Be More Pacific, 86This and Lil' Bobbies Italian Water Ice & Treats, attendees leisurely took in the sights, visited with current residents and toured Vintage Oaks' most popular model homes.
Missed out on this Vintage Oaks dynamic event? Fortunately there will be plenty more opportunities in this unique hill country community to visit and meet the friendly residents. For more information about Vintage Oaks and learn about past and future events, please visit www.vintageoakstexas.com.