Many people choose to buy land as an investment for retirement years down the road, but building early can bring significant advantages in the meantime.
More so than any other time of year, summer instills in many the need to get away. Building a second home provides just the escape for a weekend away to take advantage of New Braunfels' local, seasonal activities and the Vintage Oaks residential community amenities.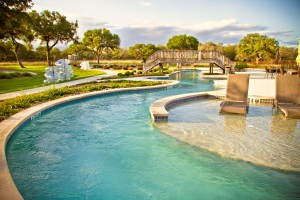 Available amenities at SouthStar's Vintage Oaks include the resort-style pool and lazy river. The community's amenities center features plenty of space for friends and family gatherings. Local attractions also provide perfect summer activities for all ages, like New Braunfels' Schlitterbahn and the nearby city of Gruene. Vintage Oaks is located in the heart of the Texas Wine Trail, with the popular Dry Comal Creek Winery right next door and other great Texas wines just a short drive away.
According to the National Association of Realtors (NAR), second-home sales account for around 4 out of 10 residential transactions. Nearly half of those buyers intend to use their newly acquired land to build a home for vacation purposes.
Benefits to owning a vacation home include the freedom to visit at a moment's notice at an unlimited frequency, all while experiencing a personalized level of comfort stemming from the ability to leave belongings that minimize future packing. These years also provide an opportunity to settle into and tailor your new home to best prepare for the approaching retirement years.