Vintage Oaks is proud to host a home groundbreaking for Senior Airman Michael Malarsie and his family this Thursday, August 16 at 10 a.m. at 2324 Appellation, New Braunfels, TX 78132. You are invited to help Vintage Oaks, Tilson Homes, and Operation Finally Home give thanks to a wonderful American Hero with a custom-built, mortgage-free home!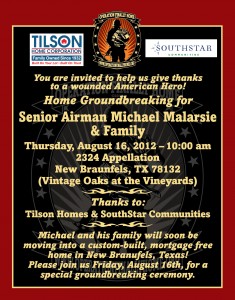 Senior Airman Michael Malarsie was severely wounded & completely lost his sight when a roadside bomb detonated while he was on patrol in Afghanistan. Since his return, Michael has shown resilience and bravery in the face of adversity. He currently works at Lackland Air Force Base in San Antonio with the Recovering Airmen Mentorship Program, helping other wounded warriors adjust to their lives. Ultimate Surprises teamed up with JR Martinez, Operation Finally Home and Tilson Homes to give Michael, his wife, and two daughters the surprise of their life.
Operation Finally Home's mission is to provide custom made mortgage free homes to wounded and disabled veterans and the widows of the fallen in an effort to get their lives back on track and become productive members of their communities. Operation FINALLY HOMEpartners with corporate sponsors, builder associations, builders, developers, individual contributors, and volunteers to help severely wounded heroes and their families' transition from the battlefront to the home front and help them succeed in their challenging new world so they may ultimately enjoy a productive and rewarding life.
Vintage Oaks at the Vineyard is located in New Braunfels, Texas, in the heart of the Texas Hill Country. We are proud to support, help, and honor our veterans. If you would like to donate to Operation Finally Home, please visit their website.