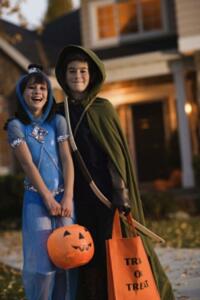 Trick or Treat! In addition to the Halloween events and activities around New Braunfels, neighborhood trick-or-treating is always a popular activity for children and our Vintage Oaks families. According to a recent article by Consumer Reports and the latest U.S. Census data, about 41 million children between the ages of 5 and 14 go trick-or-treating every year. That's a lot of costumed kids out on the streets! Here are some top trick-or-treating tips for a safe and fun Halloween night.
Safe Kids' Halloween pedestrian safety guidelines for children strongly encourage kids to cross streets at a corner, using traffic signals and crosswalks. Children should walk on well-lit, direct routes with the fewest street crossings and trick or treat with adult supervision. Be a safe pedestrian around cars: As tempting as it is for children to run from house to house anticipation for their next candy score, remind children to look before crossing streets and to never dart into the street or cross from between parked cars.
Consumer Reports also collected some great Halloween safety tips from parents all over the nation:
Buy costumes and wigs labeled "flame resistant."
Never walk near lit candles or luminaries while wearing costumes.
Wear shoes that fit well.
Fasten reflective tape to costumes and bags to help drivers see you.
Be cautious with face paint--much of it isn't FDA-approved and could trigger allergic reactions. (Always test it first on a small patch of skin.) Remove it before bedtime to avoid skin/eye irritation.
Never use decorative contact lenses; they can result in severe eye infections.
Avoid trick-or-treating alone. Walk in groups or with a trusted adult.
Hold a flashlight while trick-or-treating to help you see and others see you.
Always walk and don't run from house to house.
Stay on sidewalks whenever possible, or on the far edge of the road facing traffic. Look for cars when walking by a driveway.
Eat only factory-wrapped treats. Avoid eating homemade treats made by strangers.
Enter homes only if you're with a trusted adult.
Only visit well-lit houses. Don't stop at dark houses.
Never accept rides from strangers.
Want more Halloween tips? Check out this article on Texas' Top 10 Neighborhoods for Trick-or-Treating.
We wish all our property owners a safe and SPOOK-tacular Halloween!