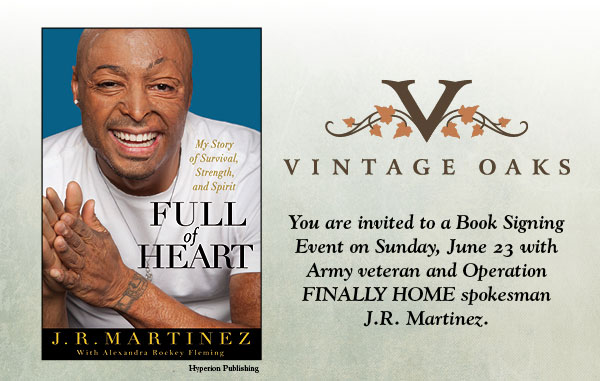 Life at Vintage Oaks is all about treasuring the community we are living in. We'd like to invite you to a book signing event on June 23 with Army Veteran and Operation FINALLY Home spokesman J.R. Martinez.
Martinez, who rose to the spotlight after winning Dancing with the Stars Season 13, just released his first book titled "Full of Heart: My Story of Survival, Strength and Spirit",telling the story of his amazing recovery after being badly injured in Iraq.
"Full of Heart" will be available to purchase for $20 at the event, and Martinez will be on hand to share his story and autograph books.
Books sale will benefit Operation FINALLY Home, who has built two mortgage-free custom homes for wounded veterans in Vintage Oaks as well as over 40 more across the United States.
Martinez and his family recently purchases homesites in Champagne Hills and will soon be living in the Vintage Oaks community. We encourage all of our owners to welcome him to Vintage Oaks during a private VIP event from 3-4:30PM including wine and hors d'oeuvres.
The public event starts at 4:30PM and concludes at 6PM at Vintage Oak Amenity Piaza, 1250 Via Principale, New Braunfels, TX 78132
Call us at 800-671-1963 or email info@southstarcommunities.com to RSVP.
If you thought you couldn't fall in love with the curve of a hill or the stature of a tree…be prepared. If you thought you couldn't be moved by dirt under foot and sky overhead…be aware. If you thought you couldn't capture a piece of Tuscany in the heart of Texas…behold Vintage Oaks.
To see Vintage Oaks is to know the true meaning of beauty. Of promise. Of prestige and planning and powerful emotions—emotions that move you from the first moment you arrive within this special Southstar Community in the heart of the Texas Hill Country. Emotions that compel you to seek information, and then to seek refuge…in your own swath of land on which you can take up permanent residence at Vintage Oaks.
To learn more about Vintage Oaks, visit our life at Vintage Oaks blog.