The New Braunfels Library is offering a free premiere screening of Age of Champions, a documentary featuring the inspiring story of a group of senior athletes.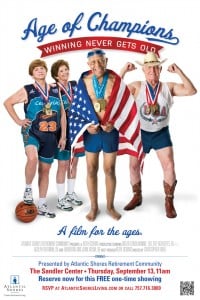 These athletes – including an 86-year-old pole-vaulter from Texas, swimmers and a team of basketball playing grandmothers – are chasing the gold at the National Senior Games.
The film will be presented in the library's meeting room, 700 E. Common Street, at 2 p.m. on Sunday, June 23rd and also at the Westside Community Center, 2932 IH-35 South, at 2 p.m. on Sunday, June 30th.
Age of Champions captures the triumphant spirit of these seniors who are tackling old age with grace, humor and optimism. Win or lose, they are living proof that it's never too late to become a champion. The film, which is approximately one hour and twelve minutes in length, will air in July on local PBS affiliates so attendees will view the piece before it makes its national debut.
"Nancy Pappas of 'Active2Day, Healthy4Life' will introduce the film and share information on some of the fitness opportunities available in our community," said Gretchen Pruett, Library Director. "The public is encouraged to attend, enjoy this inspirational movie and perhaps win a great door prize!"
New Braunfels is a desirable year-round destination for work and play in Texas. The Vintage Oaks community is proud to be a part of the growing New Braunfels area. To see Vintage Oaks is to know the true meaning of beauty. Of promise. Of prestige and planning and powerful emotions—emotions that move you from the first moment you arrive within this special Southstar Community in the heart of the Texas Hill Country. Emotions that compel you to seek information, and then to seek refuge…in your own swath of land on which you can take up permanent residence at Vintage Oaks.