Vintage Oaks celebrates a year of progress with SouthStar Communities through new developments that reflect quality service. Vintage Oaks is a 3,300 acre community in the Texas Hill Country featuring homesites, acreage homesites and single family homes surrounded by resort-style amenities.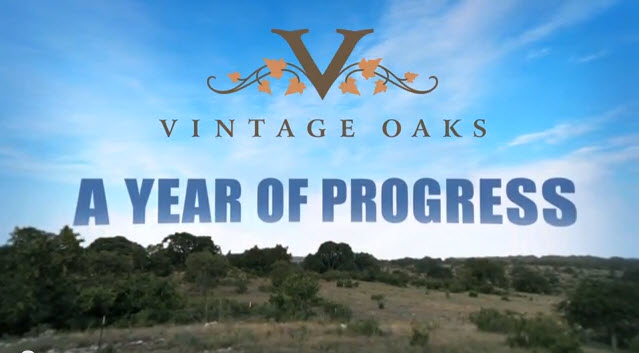 There are many ways to enjoy being outdoors in this beautiful New Braunfels neighborhood. Simply enjoy the breathtaking Hill Country by walking through the community or relaxing alongside one of the neighborhood's many ponds.
At Vintage Oaks, the beauty is only the beginning – the amenities are every bit as spectacular as the scenery. Vintage Oaks boasts new amenities including two new miles of walking trails, a sports field, a baseball diamond, two tennis courts and a basketball court. At the clubhouse, the resort-style pool and lazy river rival any four-star vacation spot, while the indoor and outdoor spaces of the Tuscan-style Amenities Center make any gathering a festive one. Spend time as a family and enjoy a picnic beneath the enormous canopy of a 500-year old oak tree or take the kids to the new playground area or kids' pool to burn off some energy.
Vintage Oaks is bringing in a new community liaison to the property. This team member will help serve the community's needs and bring fun events to the neighborhood. Feedback from the residents is allowing Vintage Oaks to better serve the community and accommodate the fast-paced growth of New Braunfels. This growth is evident in the new construction in and around the Vintage Oaks neighborhood.
In the past twelve months, the neighborhood has seen growth in sales, partly due to owner referrals, which comprise nearly one-fifth of all 2013 sales. Thank you, Vintage Oak community for helping us with that success!
"On behalf of SouthStar Communities, we thank you for everything you've done to make this a vibrant community and we look forward to another great year at Vintage Oaks," Thad Rutherford, senior vice president of SouthStar Communities.
SouthStar Communities provide acreage homesites for custom-built homes in some of Texas' fastest growing communities, where new housing starts are on the rise along with the population. This includes New Braunfels, where the Vintage Oaks community hopes to maintain the tradition of growth and success through the next year and beyond.