More than 150 people attended the book signing event at Vintage Oaks where J.R. Martinez gave an interview discussing his history, Operation FINALLY HOME involvement and decision to live in Vintage Oaks.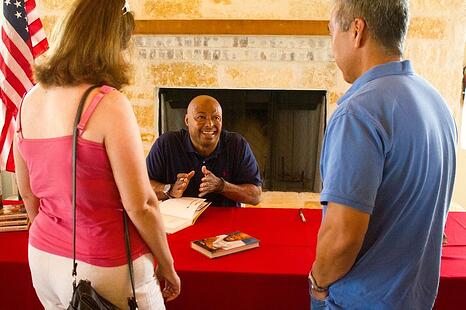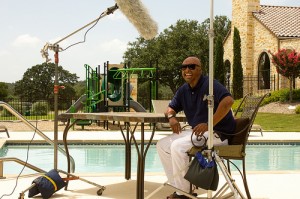 J.R. Martinez just released his first book titled Full of Heart: My Story of Survival, Strength and Spirit, and it tells the story of his amazing recovery after a terrible injury in Iraq. Martinez is also the spokesman for Operation FINALLY HOME, and he rose to stardom after winning Season 13 of Dancing with the Stars. Martinez and his family recently purchased a homesite in the Champagne Hills neighborhood of Vintage Oaks and will soon be living in this Texas community.
Property owners welcomed Martinez to the community and Martinez autographed copies of his book while meeting attendees. Book sales benefited Operation FINALLY HOME, an organization that has built mortgage-free custom homes for two other wounded veterans in Vintage Oaks as well as over 40 more mortgage-free custom homes across the United States.
Our neighboring community King Oaks is hosting a Notes of Love event to meet Sgt. Monte Bernardo and J.R. Martinez on Saturday June 29 from 10 a.m. to 2 p.m. This is another opportunity to meet Martinez., receive a signed copy of his new book and help benefit Operation FINALLY HOME. This monumental event will allow community members to write notes of love and support to Sgt. Bernardo and his family that will be forever preserved on the wood framework in Sgt. Bernardo's home in King Oaks. The Bernardo household will be build mortgage-free by the Aggieland community and the non-profit Operation FINALLY Home.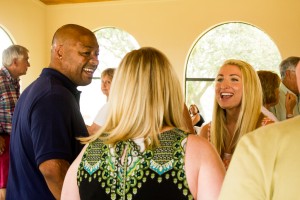 Operation FINALLY HOME was established as a 501(c)3 non-partisan/non-profit in 2005 and their mission is to provide custom made mortgage free homes to wounded and disabled veterans and the widows of the fallen in an effort to get their lives back on track and become productive members of their communities. For more information, please visit their website, Facebook and Twitter pages. Check out more event pictures here.
Vintage Oaks is a 3,300 acre community in the Texas Hill Country featuring homesites, acreage homesites and single family homes surrounded by resort-style amenities.