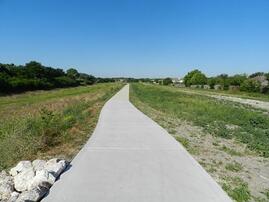 The City of New Braunfels is hosting the first annual Aktivität this Saturday, July 20th, from 8:00 a.m. until 11:00 a.m. along the County Line Memorial Trail.
"Aktivität is a wonderful opportunity for the community of New Braunfels to come together and celebrate active and healthy lifestyles," said Robin Kunkel, Parks and Recreation Department Recreation Manager.
Stations along the trail will provide fitness, nutrition and health related information and activities. The free activity stations will be hosted by local organizations, including the Comal County Healthy Living Coalition, Resolute Health, the New Braunfels Fire Department, McKenna New BraunFit, Allied Institute of Medicine, Children's Hospital of San Antonio, New Braunfels Family YMCA and the City's Parks and Recreation Department.
County Line Memorial Trail is a linear park that extends over two miles, from highway 1044 to FM 725, and is the newest addition to the Parks and Recreation trail system. Amenities along the paved path include around 200 new trees, rest areas with benches, pet waste bag dispensers and bridges connecting the amenities of both Kraft Park and Hoffmann Park to the trail.
Event parking will be available at Walnut Springs Elementary, 1900 S. Walnut Avenue. For more information contact the Parks and Recreation Department at 830-221-4350 or visit www.nbtexas.org/events.
Read more from the source: ci.new-braunfels.tx.us
New Braunfels is home to Vintage Oaks, a 3,300 acre community in the Texas Hill Country featuring homesites, acreage homesites and single family homes surrounded by resort-style amenities. As locations go, it just doesn't get any better than Vintage Oaks. From the allure of the Texas Hill Country, with its impossible panoramas of oak-studded rolling hills, to the many enticements of New Braunfels and surrounding cities, Vintage Oaks puts a world of opportunity at residents' fingertips, and as much—or as little—activity as you would like.
Learn more about the Vintage Oaks community in New Braunfels by following them on Facebook, Twitter and Google+.