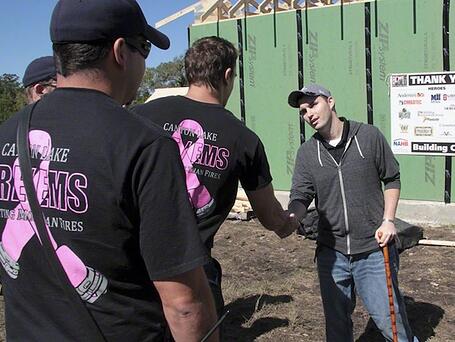 Army Specialist Cody Nusbaum is surprised with a new mortgage-free home at Vintage Oaks. Courtesy of BCMC.
Join us this Friday, October 25 from 10am to 3pm at Vintage Oaks for Notes of Love as we show our appreciation for Army Specialist and American hero Cody Nusbaum and welcome him home to the community. Notes of Love will be held at the mortgage-free home being built for Nusbaum in conjunction with Operation FINALLY HOME (OFH). The address is 1605 Angolo in Vintage Oaks.
Nusbaum will be arriving at Vintage Oaks at noon to see the progress on his on his mortgage-free, custom home and take in all the support and love being showered on him.
Notes of Love allows residents, friends, and community members to express their lasting gratitude for the wounded veterans who have sacrificed so much for our freedom. Notes of love and support will be written on the wood framing of Nusbaum's home and forever preserved within the walls.
More than 250 people recently attended the Notes of Love event at SouthStar's King Oaks community in Bryan-College Station, where a new custom home is being built with OFH for Sgt. Monte Bernardo.
Nusbaum was severely wounded after being shot by a Taliban insurgent while serving a tour of duty in Afghanistan in 2011. With Nusbaum's injuries including a shattered hip, a broken calf, a severed femoral artery, at least 11 gunshot wounds and grenade fragments, doctors said he would never walk again. But Nusbaum will walk into his future home at Vintage Oaks on Friday, a feat that is a product of 75 surgeries and Nusbaum's strong will.
Nusbaum's home is being built in partnership with OFH as well as the Structural Building Components Association (SBCA), National Association of Home Builders' (NAHB) Building Systems Councils (BSC), and the members of the New Braunfels Home Builders Association.
OFH has built more than 40 homes across the country for wounded soldiers and their families. Nusbaum's home at Vintage Oaks is the 10th such partnership between OFH and SouthStar Communities.
For more information, visit Vintage Oaks.