If it seems like Jimmy Kimmel is eating his way through Austin, it's because he is. Or was. Maybe both. The late night host and his sidekick Guillermo were in town a few weeks back working their way through the city's best barbecue joints.
Kimmel is in town now for SXSW, and is in the midst of a week of shows in the Texas capitol. Culturemap chronicled his trip to Austin, during which Kimmel proclaimed: "Austin is one of my favorite cities and there is no place more fun than SXSW. I can't wait for March 10. I'll be the guy covered in BBQ sauce."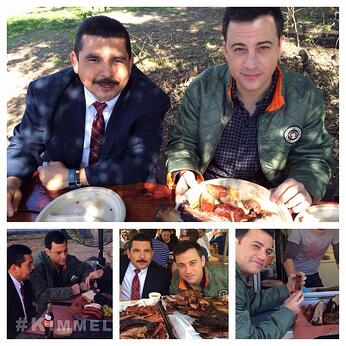 Considering Kimmel posted this collage of his barbecue pig-out on his Facebook page late today, we're thinking we might get to see a first-class chow down tonight.
You can watch Kimmel on WFAA after the local news. In the meantime, check out KVUE's video of Kimmel in a good-old-fashioned Austin BBQ eating contest.
Some of Kimmel's Austin tweets:
We hope Kimmel sets aside a little time between pigging out and hosting to come check out the Texas Hill Country, within easy commuting distance of Austin but offering a scenic, relaxed way of life. Venturing into the Hill Country and deciding to never leave is somewhat of a Texas pastime, especially at Vintage Oaks, the fastest-selling community in the Hill Country. Vintage Oaks is the answer for so many people who want to be close to Austin but enjoy Hill Country scenery and serenity.
Vintage Oaks currently offers:
Silver Oaks, offering 1- to 2.42-acre properties with some of the most breathtaking views of the Hill Country's rolling terrain and majestic oak trees. Wooded, cul-de-sac, and view homesites overlook the Hill Country landscape and are dotted with hundred-year-old oak trees. Silver Oaks is within walking distance to many of Vintage Oaks' amenities, including the Clubhouse, swimming pools, athletic fields and walking trails. The neighborhood is also a short walk from Comal ISD's proposed school site.
Champagne Hills, Vintage Oaks' first gated community in more than two years, offering some of the most spectacular Hill Country views and a rare air of privacy. The homesites also offer huge oak trees, heavily wooded landscapes, private cul-de-sac sites and green belt locations with direct access to the community's walking trails.
Soon, The Reserve will offer a unique opportunity for homebuyers to call Vintage Oaks home in a whole new way. The Reserve will offer the best of Vintage Oaks living while allowing homebuyers to choose from a variety of home plans from two of the nation's most respected builders, David Weekley Homes and Ryland Homes.
In Austin for SXSW? Be sure to schedule your tour at Vintage Oaks now to make sure you'll be able to get in. For more information on Vintage Oaks, visit Vintage Oaks.