With a mild Spring so far this year, you're probably wanting to enjoy your patio more than ever! At Vintage Oaks, we encourage our residents to create a well-crafted outdoor oasis, enhancing their outdoor living spaces. Enjoy sunny days and calm, warm evenings while relaxing on your very own piece of tranquility.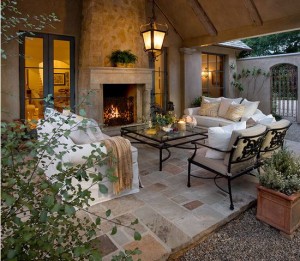 When it comes to choosing the right surface material for your patio, Zillow is a great source for helpful tips and tricks: "Before you start a patio building project, it's important to research your options and determine which material best suits your needs and abilities." With a variety of material options, researching each of the pros and cons will save you a lot of time, and money in the long run.
Here are some more key takeaways from Zillow's patio resource:
Flagstone:
Most commonly found in red, blue and buff tones, flagstone patios have an earthy, timeless appearance that's hard to resist. Irregular in shape and size, quarried flagstones can be difficult for the inexperienced do-it-yourselfer. Flagstone is also subject to erosion and splitting, so adequate drainage is imperative.
Clay Brick:
Clay brick is a time-tested classic that complements both traditional and contemporary architecture. Over time, bricks retain their rich, warm color and because of their small size, they're easy to install.
Patio Pavers:
Pavers are typically made from concrete, clay, stone or even recycled plastics. Although pavers are manmade, some are manufactured to look like natural stone, brick, cobblestone or even flagstone.
Concrete:
Concrete patios are among the least expensive to build. Assuming proper installation and maintenance, they're also one of the most durable. Poured concrete follows any form, giving you unlimited design options.
Gravel:
A gravel patio is inexpensive, quick to install and super DIY-friendly. Gravel comes in a range of sizes and in two basic varieties: river rock or crushed stone.
In order to protect the integrity of the community, all structures and features must be approved by the Vintage Oaks Architectural Review Board prior to installment.
Regardless of the material that you select, a patio will add great value and enjoyment to your home. We look forward to seeing your patio project plans, and hope that they bring happiness into your life! Contact us today!