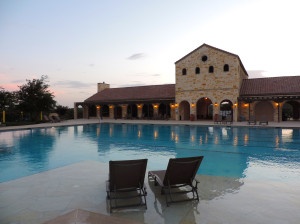 Buying a piece of land in a masterplanned community, just like buying any piece of real estate, can be an overwhelming experience if you're not properly prepared. Especially when you fall in love with the sights—and then lose sight of all the things you wanted to ask. Creating a list of questions to bring with you when you are touring masterplanned communities is helpful in keeping you on track so you can make a smart decision that appeals to your head and your heart. Here are 16 questions to ask during a community tour in the Texas Hill Country.
What is the range of acreage available? You'll want to make sure the land you want is available.
Are there also home-lot packages available too? If this is what you're looking for, you'll want to make sure it's offered in the communities you are considering. Home-lot packages are not available everywhere.
When will the community be built out? If construction noise bothers you, you'll want to know what you're up against.
When will you have to build? Many masterplanned communities set limits on when you have to build on the land.
Do you have to use a certain builder? This is another expectation set by many masterplanned developers. If you want to use your builder, make sure that is allowed before you sign a contract.
Is there minimum square footage? You might run into problems if you want to build a 1,500-square-foot cottage on an acre lot and the minimum is a 3,000-square-foot home.
What are the amenities like in the community? You'll want to make sure the community offers and activities you enjoy.
Are more amenities coming in the future? If they're not already built in, are the pool and sport courts you were hoping for on their way?
What are the schools like? If you have school-aged children, this will be high on your list of must-haves.
What does the POA take care of? It's always good to know where your money is going.
How friendly is the community? If you're planning to turn your neighbors into friends you'll want to know if the streets are filled with curmudgeons.
Do most people live here full time or are there a lot of weekend or vacation homes? You won't want to live in a ghost town if all your neighbors spend their time elsewhere. Or maybe you will!
Are there gated and non-gated properties? Weigh the privacy factor against your budget and the value it provides.
What if you want a property with a view? Some communities offer only a handful of view properties, and at a premium. If this is on your wish list, a community geared toward views that has a number of offerings might be best.
Why should I choose this community over others? A knowledgeable sales person should be able to easily identify for you several good reasons to buy.
What's the commute like into Austin or San Antonio? Some areas in the Texas Hill Country are more convenient to work centers than others. Be sure to ask about drive times. You wouldn't want to fall in love with a community only to find out after you've built that your commute is unmanageable.
Land buyers in the Texas Hill Country are drawn to masterplans like Vintage Oaks, with an array of homesites and offerings featuring some of the Hill Country's best views and an abundance of resort-style amenities including pools, parks and ball fields, and the Tuscan-style clubhouse. Vintage Oaks has increasingly been on the receiving end of the hot local market and is the Texas Hill Country's fastest-selling community.
For more information, visit Vintage Oaks.