Something about fall beckons a cozy living space. It should come as no surprise then that with autumn in full swing, many homeowners are looking to seasonally update their home decor. An article by H. Camille Smith for HGTV, highlights some easy fall decor ideas that you can use to spruce up your home this season.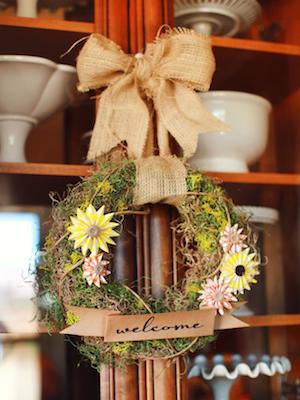 Photo courtesy of HGTV
1. Create a DIY Autumn Wreath
If you'd like to make your home feel a little more inviting, why not start by spicing up your front door? Wreaths are a great way to make your house a little homier, especially during the autumn season. Smith recommends creating one yourself by starting out with an "inexpensive wreath form, [and] moss."
For an added touch of fall, weave your wreath with autumn-colored foliage. You can find all of the items you'll need at florist shops and even discount stores! To add a comforting scent to your front steps, add spiced goods like cinnamon sticks or cleverly place an apple spice air freshener behind your DIY wreath.
2. Cozy Up Your Space with Layers!
Smith notes that autumn layering doesn't just apply to fashion. She advises that home-owners, "put [layering] to work in [the] home and toss cozy wool, cotton, chenille or even luxurious cashmere throws over furniture in rooms where your family or guests gather." Layer pillows on top of beds and couches for an added touch of comfort.
3. Showcase Seasonal Flowers & Foliage
Make an easy fall centerpiece by foraging for fall foliage on your next nature walk; Smith recommends that you "gather pretty specimens from your own backyard." Just make sure to check for bugs first! Your natural home centerpiece can feature anything from tree brambles to dried flowers and fallen leaves! Don't have time to find your own foliage? Smith notes that you can easily " …pick up a pack of the silk variety at your local craft store."
Smith also recommends that homeowners add a few pops of autumn color to their outdoor space. She notes that plants and autumn flowers such as, "vibrant mums and pumpkins give [any] front entry a colorful fall pick-me-up".
4. Display a Cornucopia!
For decades, Cornucopias have symbolized the autumn season. Smith states that, "a cornucopia is a time-honored symbol of the harvest." Often used for display purposes, cornucopias can also work as a functional decoration. For instance, you can fill your cornucopia with squash and other autumnal foods and display your creation in the kitchen to inspire fall recipes and cooking!
Feel inspired? For even more easy fall decor ideas, check out the full HGTV article!
Schedule a trip to Vintage Oaks this Fall and see how the residents of Vintage Oaks are embracing the Fall season. Schedule your trip around one of the many local area events, like the Gruene Music & Wine Festival, and experience all that this thriving area has to offer.