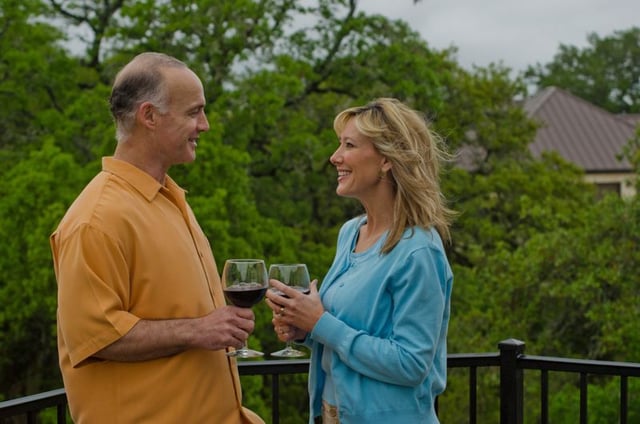 Living on the Texas Wine Trail is a unique opportunity to be surrounded by some of the most spectacular nature that the state has to offer in one of the most exciting areas in the country. Of course, access to some of the best wines in the world isn't terrible, etiher!

The serenity
The gently rolling hills, towering oak trees, wide expanses of green, and sparkling lakes and rivers draw visitors from far and wide and make those who live in the Hill Country happy every day. Perhaps the only things that could make those view better are vines. The vineyards of the Texas Wine Trail offer some of the most beautiful surroundings around. Want to spend a relaxing day appreciating just how lucky you are? Spend it drinking in the scenery at your favorite winery.

The convenience

It may be incredibly beautiful, but the Texas Wine Trail is also incredibly convenient. The Hill Country is perched between two of the fastest-growing and most dynamic cities in the nation, which means easy access to both—and to their strong job markets—for those who live on the trail.

Many of the cities along the trail have growing economies and impressive job markets of their own. New Braunfels is one of the fastest-growing cities in the nation and has added thousands of jobs in the last year alone, with hundreds more earmarked for the year, and neighboring San Marcos has been the fastest growing city in the nation for the past three years.

The acclaim

The Texas Wine Country is more than a local favorite. In the last few years, the wineries along the trail have continued to grow in exposure and reputation, with several impressive international awards including TEXSOM International Wine Awards (TIWA), and well-known experts like Huffington Post calling the Hill Country the "New Napa." Wine Enthusiast also named the Texas Hill Country "one of the 10 Best Travel Destinations."
Being able to drink Texas wine anytime you choose
Many of the wineries along the Wine Trail have regular tastings, so once you've discovered your favorite wines, it's just a matter of stopping by, having a taste, and taking a few treasures home. People who live at Vintage Oaks, the fastest-growing community in the Hill Country for the past three years, have the privilege of living directly across the street from the popular Dry Comal Creek Winery, with the best access to their famed Black Spanish wines anywhere.
For additional information on the Texas Wine Country or living right on the Texas Wine Trail, visit Vintage Oaks. The best way to get the most out of living on the Texas Wine Trail is finding the ideal piece of Hill Country land for sale and building a custom home in New Braunfels. Vintage Oaks also offers an array of resort amenities that feel like a five-star resort.
You can also click below to see the newest property release.