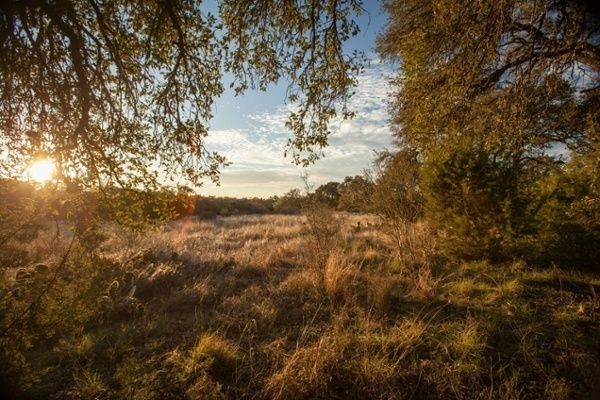 Picking the perfect homesite and buying land in Texas Hill Country can be a more complicated process than buying a home because of the added considerations. When buying a new home, you're typically limited to the homes and homesites the builder has available. But, you don't have the same constraints with a land purchase, and in the Hill Country, the possibilities are endless. For many land buyers, that's great news, but, for others, having so many choices can mean they don't even know where to begin—or how to narrow down their options. These tips can help.
Think about your dream home
Some people concentrate on location first when thinking about buying land in Texas Hill Country, and if you already have your eye on a particular community or if you dream about somewhere that's really remote, it's understandable. But the Hill Country is a unique place with characteristics, terrain, and topography that change from one town to the next. Considering what kind of home you want to build can help you eliminate areas that just won't work so you can focus on those that will. Want a sprawling one-story home on a level lot? Perhaps a hillier area that can be harder to build on is out of consideration. Want to be spread out on a hilltop with spectacular views? A mostly flat area that sits in somewhat of a valley is out.
Property Owners' Associations (POAs), and, in particular, whether or not a community has one, might also be a consideration. Masterplanned communities have POAs that help preserve the community standards and therefore the home values. Other areas with no POA may offer more freedom to build what you want and maintain it—or not—in any way you want, but there are obvious downsides to that lack of oversight, and your property value may suffer at the hands of others.
Think about your lifestyle
Is a 45-minute drive to Target something you cannot fathom or do you crave the solitude a remote piece of land far removed from "civilization" could provide you? Are privacy gates a must-have or do you like the idea of being in the thick of a community, where you can easily mix with neighbors? These are just a few of the questions to ask yourself as you start to identify what the perfect neighborhood looks like to you. Lifestyle is among the most important factors when buying land in Texas Hill Country. You can build the most spectacular house in the world, but if it doesn't support your lifestyle, you'll probably end up wanting to move more sooner than later.
Determine your ideal lot size
You may already have a preferred lot size in mind, or at least a range, if you're thinking about buying land in Texas Hill Country. But, is that lot size also conductive to your lifestyle and the size home you want to build? Some Texas land buyers insist on large acreage, while others want to make sure they are not buying more land than they are comfortable taking care of. A Hill Country land specialist can help steer you in the right direction depending on what you need, what you want, and how much you intend to spend. An important question to ask is whether or not there are requirements for how much (or how little) home you can build on a lot. You don't want to fall in love with a floorplan only to find out that it can't be built on the lot you have your eye on, and vice versa.
Talk to a builder early on
That's also a good reason to get a builder involved early when buying land in Texas Hill Country. Hill Country topography has its beauty, and also its challenges, such as heavily wooded and sloped properties. You may think one of these homesites is out of the running—until you meet with an experienced builder. Finding someone you can trust to help guide you through the process and also help you to develop—and stick to—a workable budget is key. Buyers can use services like Vintage Oaks' Builder Match Program to seek out the perfect homebuilder for their needs and help make the land purchase and home building process seamless.
For more information about buying in land in Texas Hill Country, visit Vintage Oaks. This 3,300-acre masterplan from acclaimed developer SouthStar Communities is the fastest-growing community in the San Antonio area for more than four years, with a coveted location right on the Texas Wine Trail between San Antonio and Austin and a variety of land and home offerings. Hill Country land ranges from 1 to 14 acres in gated and non-gated neighborhoods. The community's famed resort-style amenities include a Tuscan clubhouse; multiple swimming pools with a separate kids' pool; a lazy river; a children's playground; ball fields and sport courts; miles of walking trails that wind through the masterplan; and a future Fitness Center.
You can also see the newest land releases at Vintage Oaks by requesting a copy of the interactive map below.