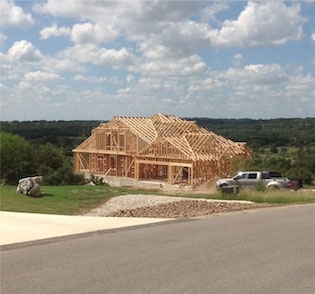 You know that saying about Texas weather: If you don't like it, wait 10 minutes? That's especially valid when it comes to building a custom home in the Hill Country. Unpredictable weather can take its toll on a home build. Taking the proper precautions can help you protect your investment, and stick to your budget and timeline.
Discuss the potential for weather delays upfront
Hill Country contractors will typically build a contingency into the contract to account for unexpected delays. Weather is right there at the top of the "unexpected delays" list, especially in a state like Texas. Talking this over with your builder so you know what to expect can give you peace of mind.
"Trying to plan and assemble a new home is a difficult job, which requires many years of experience to get down to a science. Then, once you have planned everything to perfection you run into weather delays or problems with your subcontractors, which lead to delays in certain areas of the home," said Houzz. "If you are lucky, one delay won't precipitate another, but usually in construction one process must be done before another can be started and delays can compound. In order to avoid some of the frustration that comes along with the process, talk to your builder about how they get around these common issues."
Track weather patterns
That being said, it's important to track weather patterns so expensive delays and damage to the home under construction can be avoided. Extensive rain could also saturate your Hill Country land, making delays necessary. A good contractor will be keeping track of local weather several days in advance using forecasting sites so adjustments so the build schedule can be made if needed.
Schedule around seasonal weather issues
It's not always practical to start building at a time of year when there are typically fewer instances of bad weather. But, it is preferable. This is especially true because of how important it is to avoid exposing the home under construction to water during the foundation and framing stages, when inclement weather can damage the structure of the home, Tracking weather conditions will be extra important during this time.
Know the cost of delays upfront
You won't know ahead of time if there are going to be delays or how long they may be when building a home in the Hill Country, but you can arm yourself with information about costs so you're prepared. Adding time to your build schedule can create carrying costs that affect the budget, such as:
Interest on your loans
Rent for equipment
Real estate taxes
Utilities
Insurance
Know what's compensable…and what's not
When it comes to delays, you generally won't be compensated for weather.
"There may be circumstances, however, when a weather delay will be compensable," said HCC Insurance Holdings. "For example, it may be the intent of the parties to start construction in the fall, completing the building pad before the start of winter weather. If the Owner is unable to obtain the site or site access and this delays the start of the work into the winter months, the Contractor may then be unable to proceed with construction of the building pad because of weather delays. In this circumstance, the weather delay that would otherwise have been merely excusable may now be compensable."
For more information and to search Hill Country land on which to build your custom home, visit Vintage Oaks or click below to view the newest release of Hill Country land for sale.