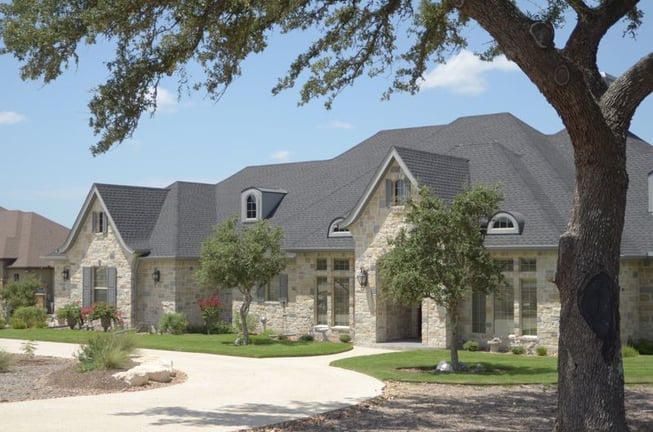 The cost of building a home in the Texas Hill Country can range widely, depending on factors like home size, location, architectural style, and finishes. Building a home on a budget is possible by using a few money-saving tips.
1. Watch out for interior finishes
According to the latest NAHB Construction Cost Survey, most of a home's cost goes toward construction—over 60 percent! Of that 60 percent, most is spent on the interior finishes. This is also the area where buyers can save substantially.
Moneycrashers recommends "sourcing your own materials" where possible. Your builder should be well connected, which might help in securing materials at a discount or finding other options for some of the more expensive finishes you have your eye on. But, in some cases, "It makes sense to do your own digging and buy less expensive—but still high-quality—items on your own."
2. Concentrate on architecture and floorplan design
Framing can account for as much as 20 percent of the cost of a home and exterior finishes another 15 percent or so. The more complicated the architecture, the higher that number can go.
But, "You can save a bundle by paying close attention to the home designs you're choosing from—both the exteriors and the floorplans," said Washington-based builder Shaffer Inc. Shaffer recommends:
Straight-run stairs—They're "easier and cheaper to build than curved or u-shaped staircases with landings."
A focus on smart plumbing—"Bathrooms can be situated back-to-back to save you money up-front, and when it comes time for repairs."
A standard ceiling height—"If you love high ceilings, look for two-story design or one with consistent ceilings rather than staggered ceiling heights throughout a floor plan. To get that lofty feeling, ask for truss systems that create tray ceilings, giving the effect of higher ceilings without requiring taller walls, which will drive up costs."
3. Address the exterior
The more complicated and design-heavy your exterior, the more likely it is to cost a bundle. Features like gabled roofs and materials like exotic stone pile on the cost. A simplified roofline and materials that provide the look at a lower price—your builder should be able to help you achieve both—will shave off dollars.
4. Build what you need
If you have a growing family or anticipate changes to your family dynamic in the near future, you might need a flexible floorplan with room for evolving needs. If you are a couple or retirees with occasional guests, you may be able to cut down on unnecessary space. The smaller the floorplan, the lower the cost.
5. Splurge smart
There are some areas you're probably not going to want to compromise on. Identify what those are and then work around them. For some, it will be a specific type of appliance for the kitchen. For others, it might be green features. Adding in a few splurges simply because you want them may be reason enough. But features that serve a dual purpose—high-end appliances that can bring long-term value and green features that increase energy efficiency, thereby lowering costs—are easily justifiable.
6. Consider a semi-custom home
In some communities, semi-custom homes offer an enticing alternative to custom homes because they offer an enhanced level of customization at a lower cost. Floorplans are pre-designed, so buyers choose their options and finishes from a comprehensive list that allows them a personalized home on a quicker timeline—and for less money—than custom.
Ready to start building your home? Visit Vintage Oaks to start narrowing down your Hill Country homesite options. Learn more about the last 1 acre hilltop lots in Timber Ridge and how to receive final incentives by clicking below.