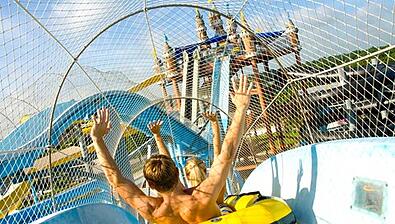 Schlitterbahn Waterpark New Braunfels is a favorite spot of Texas Hill Country residents and visitors alike, and everyone who visits shares one important trait: they all want to avoid the crowds. Here are 6 tips that will help make the most of a trip to Schlitterbahn.
1. Go on a weekday
Weekdays are considerably less busy than weekends, especially once school starts. If you can muster up a day of hooky, you'll have run of the park.
2. Go early on a weekend
If you can't go during the week, make sure you arrive as close to opening as possible on the weekend. The park opens at 10am, but frequent visitors advise that if you arrive by 9:30, the ticket counter is open and you may be able to enter the park and start enjoying. "Open up the waterpark with us," said Schlitterblog. "If you arrive 30 – 45 minutes early, you are going to hit the fewest lines."
3. Pick a slow day
According to Schlitterblog, "Wednesday is the slowest day during the summer, and other good bets include "a day where it's rained just a little (it's amazing how a brief rain shower will keep people home), or ON A HOLIDAY. That's right, the actual day of a holiday, like the 4th of July or the actual DAY of Labor Day, is slower than the days around it."
4. Plan ahead
Even if you've never been to Schlitterbahn, doing a little advance research to figure out where to go first will help you maximize time on the attractions instead of standing in line. A park map will help you figure out where the most important activities are.
Some Schlitterbahn experts recommend doing the park the same way you would Disneyland: go to the farthest point from the entry and work your way back in. This should eliminate long lines for at least the first few rides, but remember that you may miss those closer to the entry using this tactic. If you have two days at the park, you can pick those up after a good night's sleep.
5. Stay on the grounds
The Resort at Schlitterbahn New Braunfels offers overnight accommodations including the River Bend Cabin, Treehaus Suite, and Schlitterstein Studio Loft. Staying at the resort comes with the added benefits of included admission, "early ride time on the Master Blaster, Dark Night and Wolfpack before the waterpark opens, free on-site parking, free tubes and free shuttle service."
6. Check out a cabana
If you're not staying at the resort but want a place to gather and escape the crowds, rent a cabana. These private shaded areas come with reserved parking and wait service.
Plan a trip to Schlitterbahn this weekend with the kids and discover what Hill Country living is all about. While you're here, stop by Vintage Oaks for a private tour and discover all that Vintage Oaks has to offer families.