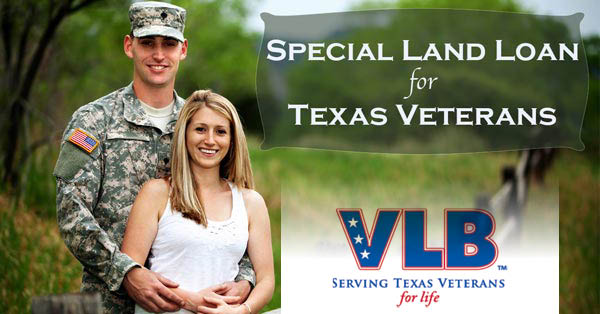 Land loans from the Texas Veteran Land Board (VLB) represent one of the best buying opportunities for Texas veterans. However, many veterans don't know these loans exist or haven't been informed of the details. These eye-opening facts about Texas land loans for veterans outline how land purchases can be uniquely affordable for Texas veterans and can make great land values even more so.
1. The VLB offers a one-of-a-kind program only available in Texas that grew out of a desire to recognize Texas veterans and provide land ownership opportunities through special loans.
"In 1946, this tradition was formally recognized with the creation of the Texas Veterans Land Board (VLB) to administer benefits exclusively for Texas veterans," said the VLB. "Since then, more than 200,000 VLB loans have been funded for Texas veterans."
2. VLB loans are only available on the purchase of Texas properties to "bona fide" residents of Texas who have served in any of the United States' five military branches: Army, Navy, Air Force, Marines, or National Guard. One of the most unique features is the low down payment. Just a 5% down payment is required; this is the lowest down payment available in the state of Texas for a land loan.
3. VLB loans are good for land purchases of at least one acre
4. The maximum land value is capped at $125,000; this was recently increased from $100,000, making even more Texas land eligible for loans.
5. Loan terms are 30-year, fixed-rate.
6. VLB loans also includes special discounts that are offered to disabled veterans and unmarried surviving spouses.
7. Vintage Oaks is the second largest provider of land loans for veterans and the fastest-growing community in the Texas Hill Country. This veteran-friendly community offers a range of properties ideal for Texas veterans as well as convenience to the San Antonio Military Medical Center, the VA Clinic in New Braunfels, and Randolph AFB.
8. Vintage Oaks is home to a number of retired military and veterans, as well as wounded warriors through its partnership with Operation FINALLY Home (OFH) to provide homesites and mortgage-free homes to American heroes.
For more information about the VLB program, visit Vintage Oaks or click below to download the Texas Veterans' Hill Country Land and Home Buying Guide.