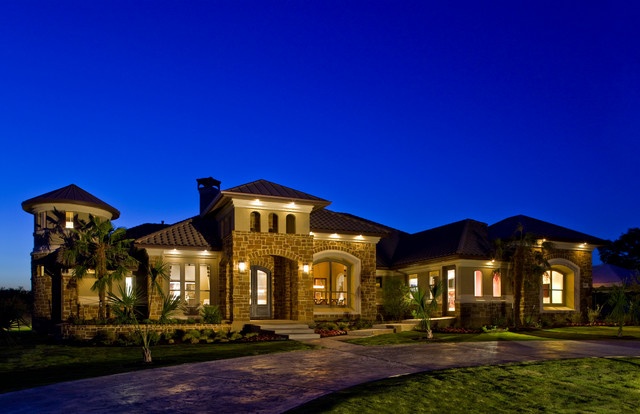 Building a custom home provides countless opportunities to add the specific features and finishes you want, to design a floorplan to your exact specifications, and to take advantage of one of the hottest trends in home design: building green. Knowing what can make the biggest impact can help inform your choices when incorporating green features into your Hill Country custom home.
1. Windows
High-performance windows like those from Pella can help keep out drafts and noise, hold in heat in the winter and keep a home cool in the summer, improving energy efficiency and comfort. And since windows can be the largest source of energy loss in a home, the impact can be substantial.
2. Solar panels
Solar energy is one of the most impactful eco-friendly features you can add to your home for energy savings. Experts estimate homeowners can also save money over time—$20,960 over 20 years in Texas.
The upfront cost of solar panels has been a deterrent for those looking to go solar. But prices have gone down significantly over the years, and alternatives to buying a system outright, like power purchase agreements (PPA), a program that provides $0 down financing for residential solar systems, plus incentives and tax breaks, have made them more affordable.
3. Passive Solar
If you don't want to go to the trouble or expense of a complete solar system when building a custom home, incorporating passive solar is another way to go. Passive solar is a way of designing and building a custom home so that reliance on heating and cooling systems is reduced.
"Passive solar design takes advantage of a building's site, climate, and materials to minimize energy use. A well-designed passive solar home first reduces heating and cooling loads through energy-efficiency strategies and then meets those reduced loads in whole or part with solar energy," said Energy.gov. "Because of the small heating loads of modern homes it is very important to avoid oversizing south-facing glass and ensure that south-facing glass is properly shaded to prevent overheating and increased cooling loads in the spring and fall."
4. Light bulbs
Think paying attention to your light bulbs isn't important? The average home has 47 of them. Choosing compact fluorescent bulbs (CFL) instead of incandescents can make a huge difference. "Unlike incandescents, CFLs convert most of the energy they use into light rather than heat," said Better Homes and Gardens. "They consume about 75 percent less electricity and last up to 10 times longer (10,000 hours as opposed to 1,500). Replace one 75-watt incandescent bulb with a 25-watt CFL and save up to $83 over the life of the bulb."
5. Flooring
Wood floors are a favorite feature in Hill Country custom homes, but they're not necessarily the most green feature. Products like bamboo and cork are considered eco-friendly; bamboo is especially attractive for those who want a wood look that is also sustainable because of its ability to grow back so quickly.
6. Insulation
Your choice of insulation can greatly impact the efficiency of your home. That pink, fluffy stuff that was the standard for years has been replaced by Blown-In Wall Insulation (BIBS) or Spray Foam Insulation for those who are looking to increase their energy savings.
7. Appliances
ENERGY STAR® appliances are the industry standard in terms of getting the most efficiency in your kitchen and laundry. Their website can help you determine your energy and cost savings when incorporating these appliances into your custom home.
8. HVAC
Up to 50 percent of a home's energy is used for heating and cooling. The type of heating, ventilating, and air-conditioning (HVAC) system you choose can dramatically impact your home's energy efficiency. Experts recommend installing a system that is ENERGY STAR qualified. A programmable thermostat with home automation can further help save energy—and money—by allowing you to control your home's temperature, as well as lights and other features in your home, by Smartphone.
For more information on buying land and building a custom home in the Hill Country, visit Vintage Oaks or click below to download the free Guide to Building a Custom Home.