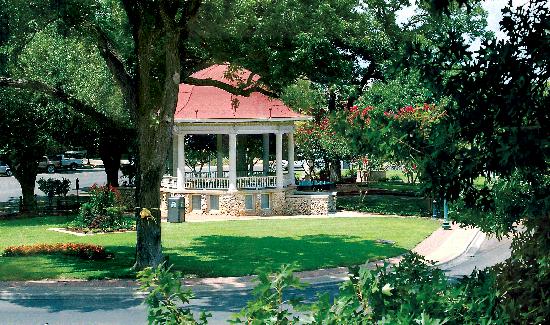 New Braunfels is the fastest-growing city in the nation, and anyone who doesn't know why just hasn't been here yet. The city's population has grown more than 44 percent since 2000 according to Sperling's Best Places and was the fastest-growing city in the nation for 2014.
Here are just a few reasons why:
1. So much to do
New Braunfels offers a unique mix of charm and convenience, with quaint downtown shops and great outlet stores, fine dining and Texas favorites, and cultural opportunities that celebrate the city's distinctive heritage.
2. Great fun
Wine tasting on the Texas Wine Trail, the thrills of Schlitterbahn, or relaxing at Landa Park—just a few of the fun activities that await in New Braunfels. And, a good reason why New Braunfels' population is growing.
3. Beautiful scenery
The Texas Hill Country boasts some of the most spectacular scenery in the state, and the rolling hills and stunning views offered in New Braunfels are simply unmatched.
4. Incredible recreation
From walking among scenic trails, to hiking and biking along the natural terrain, to tubing on one of the city's rivers, New Braunfels invites residents to get up and go, no matter what pace they prefer.
5. Employment opportunities
The unemployment rate in New Braunfels is 3.40 percent, significantly lower than the national average of 6.30 percent, and job growth continues to impress with a recent 2.21 percent increase. Plus, New Braunfels is located between Austin and San Antonio, providing residents with easy commutes to either of these dynamic cities.
6. Excellent schools
The Comal Independent School District (CISD) is rated a Recognized school district and all of its campuses are fully accredited by the Texas Education Agency (TEA). Twelve of those schools are rated Exemplary and 10 schools are rated Recognized. In addition, many CISD schools are also honored with Gold Performance Acknowledgement (GPA) Awards by the (TEA) for outstanding performance every year.
7. Exactly what you want
The wide range of homes and neighborhoods available attracts those who are seeking a desirable lifestyle in New Braunfels with their own personal touch. Existing homes, new homes from builders, home-lot packages, and custom-built homes are all available in Vintage Oaks.
8. Great people to meet
New Braunfels residents share one important thing in common: the love of where they live and an appreciation of all that New Braunfels has to offer.
Cities like New Braunfels draw like-minded individuals and families who are looking for a better way of life and find it right here. For many, that means living at Vintage Oaks. The fastest-growing community in the Hill Country. Vintage Oaks offers an array homes and land in a master-planned setting with breathtaking Hill Country views and an array of resort amenities.
For more information about the growing city of New Braunfels, visit Vintage Oaks or click below to schedule a private tour of the community.