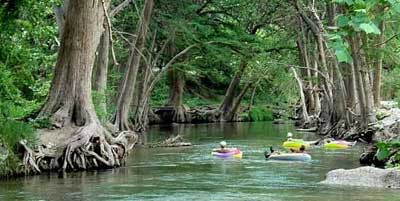 Tubing is one of the most popular activities in Texas, and the Guadalupe is a favorite spot for enjoying a day on the river. Whether you've never had the pleasure of floating the river or are just looking for a few ways to make the experience more enjoyable, knowing a few tips can help—especially when you bring the kids. Here are 8 things to consider when taking kids tubing on the Guadalupe River.
1. Make sure everyone is of legal age.
Children need to be five years old to be on the river. Age requirements are in place for safety reasons.
2. Always wear a life jacket.
You want to make sure everyone is safe at all times, no matter how good a swimmer you or your family members may be.
3. Protect yourself from the rays.
You may not feel hot while you're being splashed by water, but trust us, you're getting sun. Make sure you slather on the sun block ahead of time and bring it with you to redo as needed.
4. Stay hydrated.
All that sun—and excitement­—will undoubtedly have you feeling thirsty, so bring the drinks! But be aware that you cannot take glass containers or Styrofoam coolers on the river. You also can't take family-size ice chests. Each tuber can bring one 16-quart cooler, which needs to have a latch or zipper.
5. Imbibe—responsibly
If you're of drinking age, you can imbibe on the Guadalupe River. But remember to drink responsibly and abide by Texas state law, which means no public drinking between the hours of 2:15am and 12 noon on Sunday. For more details, visit the TABC State of Texas Website.
6. Pack some snacks
It never fails that as soon as you get out on the water, your kids will tell you how starving they are. As long as your bringing drinks anyway, pack up those coolers with some healthy snacks—cheese sticks, fruit, protein bars and anything else that can calm a rumbling tummy until you can get back to shore.
7. Take care of your trash
Make sure you get a mesh bag when you get your tube. This is what you'll use to hold your trash. If you get a fine for littering on the river, it'll cost you $500.
8. Come home to Vintage Oaks
After a long day on the river, there's nothing better than coming home to Vintage Oaks. If you haven't yet discovered the fastest-growing community in the Texas Hill Country, visit or call 800-303-6780 to schedule a tour.