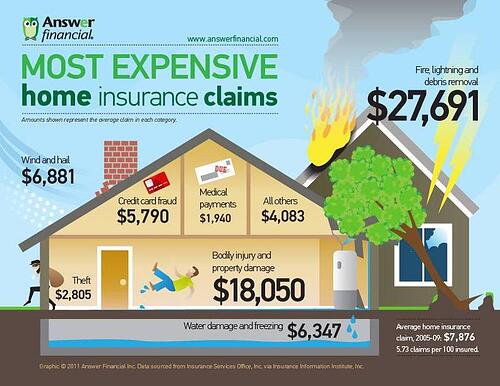 When buying a home, one of the lender's conditions for your home loan is a homeowner's insurance policy. On closing day, you must bring proof that you have insurance and its paid for at least 12 months in order for your loan to close.
Proof of your policy is on your policy's declarations pages showing the date your insurance went into effect, the policy period and the 12 month cost. Additionally, you will need a receipt or a letter from the insurance company that you have paid the bill.
Lenders require insurance to protect their interests in case catastrophe strikes. For instance, if your home is destroyed by a fire, the lender knows the mortgage will be repaid from the insurance proceeds. However, even if you don't have a lender, you should still insure your home to protect your investment and interests. You also need insurance to protect yourself against lawsuits if someone is injured on your property.
Ask family and friends for insurance references, explore the web to find ways to save on your policy and know the type of coverage you need.
The best policy is a guaranteed replacement cost coverage policy not actual cash value replacement policy because an actual cash value policy only covers the depreciated value.
Ask your insurance company about personal property protection. You may be able to get a personal property replacement guarantee as part of your policy. If not, aks if you can get it through an add-on, called a rider.
The amount of liability coverage you need depends on your worth and circumstances. The more you're worth, the more you have to lose if you are sued. Experts suggest getting coverage equal to double your assets. There are even excess-liability policies available for those who need the protection.
Some possessions may need to be insured on separate riders if they have a high appraised value.
Finally, standard homeowner's insurance policies do not protect you against floods, earthquakes, hurricanes or wildfires. If you are in a flood zone, your lender will require flood insurance. Specific hazard insurance is up to you and will require riders separate from your basic policy.
Research and buy homeowner's insurance far enough in advance that it is in effect by closing day for your new home in Vintage Oaks so you can move your family into your home quickly.