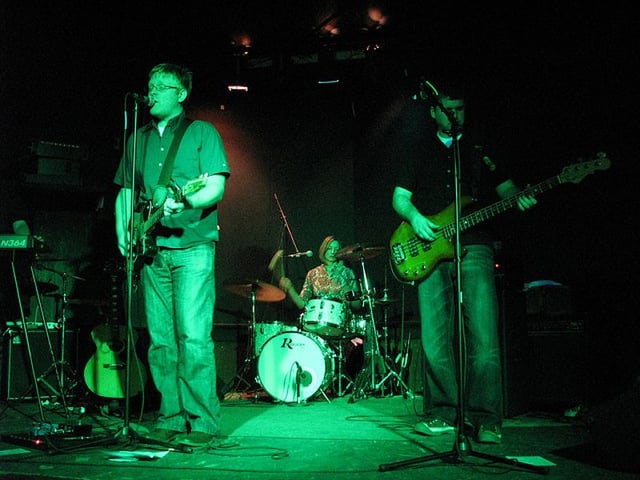 Pour Haus is a favorite Hill Country music spot all year round, known for its multiple bars, live music seven nights a week, special events, and a great location. Voted the best bar in New Braunfels, it's especially beloved during the Pour Haus annual event. This year's event is Sunday, Feb. 21 from 8pm to midnight and is a great opportunity to enjoy a date night in downtown New Braunfels. Pour Haus is a free annual event (smaller versions take place monthly) that showcases local artists with live music and painting.

The music lineup includes:

8pm—Elizabeth Bayou-Grace
9pm—Michael New
10pm—Ryan Quiet
11pm—Dollface

The Artist Lineup incudes:

The Pixel Buster David Valdez, Digital Artist


The Artwork of Kelsey Huckaby


Alyssa Hamilton, Acrylic Painter
Hannah Bligh, Landscape Artist
Jay Rickard, Acrylic Painter
Graf Chalupa, Pyrographer
JENKINS2D Johnny Duncan, Digital Artist and Cartoonist
Anthony Castilleja, Portrait Artist

The event will also include smTEAx performing Gong Fu Cha, Flow Art, Henna, and Body Art. Get more information here.

New Braunfels events take place all year round, giving individuals and families ample opportunity to enjoy their surroundings and the array of amenities. Festivals throughout the year focus on music, family fun, and celebrations of the Hill Country's unique history.

Living in the Hill Country

http://www.vintageoakstexas.com/neighborhoods/deer-creekPeople come to the Hill Country from all over Texas, the country, and the world for some of the best Texas real estate, a growing economy, great convenience to Austin and San Antonio, and a warm and welcoming, small-town atmosphere. Frequently, it is communities like Vintage Oaks that turn them from visitors into full-time residents. The fastest-growing community in the Hill Country for three years, the 3,300-acre Vintage Oaks masterplan features Hill Country land for sale both gated and non-gated neighborhoods with a resort-style atmosphere including a Tuscan clubhouse, multiple pools, trails and parks, and ball fields. Conveniently located in New Braunfels, the 13th-fastest growing city in the nation, Vintage Oaks is within easy commuting distance to San Antonio and Austin, yet ensconced in a serene, scenic area right on the Texas Wine Trail.

For more information, visit Vintage Oaks or click below to see more Hill Country events.