Vintage Oaks: A Commitment to Veterans
Vintage Oaks is the fastest-growing master-planned community in the Texas Hill Country, revered for its wonderful location on the Texas Wine Trail. Its variety of homesites and homes, an array of resort-style amenities, breathtaking views, spanning rolling hillsides, towering oak trees, and stunning sunsets have made it one of the most popular communities in Texas.
Residents flocking to the Hill Country love Vintage Oaks and now veterans are discovering the community for all the same reasons — and love the warm welcome they receive from this military-friendly community with easy access to veteran services in nearby San Antonio. In fact, a quarter of Vintage Oaks' current owners are veterans, and migration of former military to the community shows no sign of slowing.
"The number of veterans moving here from across Texas and out of state is only growing as they discover everything Vintage Oaks has to offer and are reminded of the area they already love," said Cole Haley, regional sales director. "From our location that allows them to easily reach both San Antonio and Austin, the wide variety of amenities and our ongoing commitment to veterans, they know this is a wonderful place to buy land and build or take advantage of our new home-lot packages."
Vintage Oaks Newest Amenity
Vintage Oaks is continually adding amenities to reflect the lifestyle needs of its landowners and residents. Most recently, SouthStar Communities, developer of Vintage Oaks, added to the community's trail system to connect the Clubhouse with the sports fields and create even more scenic spots to take in the views.
Now, Vintage Oaks is breaking ground on Timber Ridge Park and Veteran Walkway, the newest addition to the community's ample amenity package and a direct reflection of its dedication to veterans. This 23-acre park will offer serene spaces for relaxation and recreation within a stunning landscape that showcases beautiful Hill Country vistas. Located in the heart of the community within a short walk of Vintage Oaks' renowned Tuscan-style Clubhouse and swimming pools, the park will feature a natural dry creek bed that meanders through the area and planned walking trails to add to the 3.5 miles of walking trails currently in place at Vintage Oaks.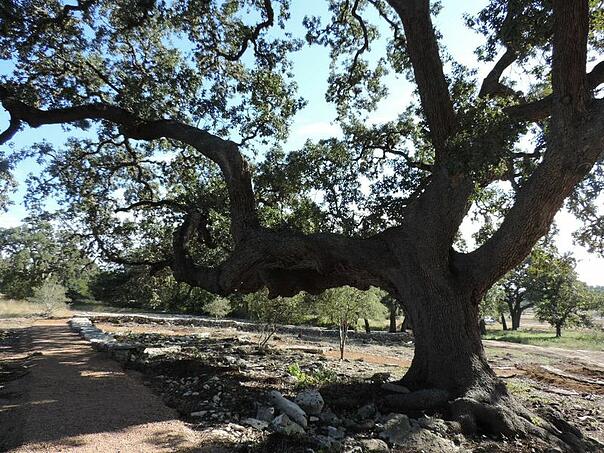 Situated in an open valley in the heart of Vintage Oaks with a long view of the new wildflower field and a naturally terraced hilltop shaded by a grove of heritage oaks — some as old as 200 years, Timber Ridge Park will invite quiet reflection. Ample seating areas beneath the oaks will offer the ideal space for taking in the scenery, while the commemorative stone pathway will honor veterans dedicated by the residents and owners at Vintage Oaks.
Honoree's name, rank and service time will be engraved into worn limestone to walk guests from the entry to the base of the oak grove, providing a special place where area veterans can gather and all those who appreciate their service can pay their respects. The park is anticipated to open in Spring 2015.
Respecting Veterans
The Veteran Walkway is the latest example of Vintage Oaks' and SouthStar Communities' respect for and commitment to those who have served this country. Among the many veterans who live at Vintage Oaks are Senior Airman Colton Reed and Army Specialist Cody Nusbaum, each the recipient of a mortgage-free, custom home through SouthStar's partnership with non-profit organization Operation FINALLY HOME (OFH). SouthStar and OFH have partnered on 10 lots and homes for wounded warriors and their families with the 11th on the horizon - a third mortgage-free home to be built for a worthy veteran at Vintage Oaks in partnership with HEB.
"Their commitment to veterans is all in. Not only for the wounded veterans who have a chance to start a new life in a brand-new, mortgage-free home at Vintage Oaks, but also for their promotion of Texas Veteran Land Board (VLB) loans that help make Texas land and homeownership more affordable for veterans," said J.R. Martinez, Army veteran turned actor, author, and Dancing With the Stars Season 13 winner, and Vintage Oaks landowner. "Many veterans find out about these loans through SouthStar and Vintage Oaks, and are able to become landowners and homeowners because of them."
SouthStar is the largest single producer of land loans for veterans through the VLB. The company grossed 39 homesite sales that qualified for low-interest, long-term VLB loan financing in 2013, reflecting more than $2.9 million in volume and resulting in several new military landowners and homeowners.
So much to see and do
This increase in veteran residents paralleled the community's popularity as a whole. MetroStudy, a national housing market research firm, reported Vintage Oaks as the fastest-growing community in the Hill Country in 2013 and its on pace to receive that title again in 2014.
The community's gorgeous Hill Country landscape and resort-style amenities are a strong contributor to Vintage Oaks' popularity, as is the array of recreational opportunities nearby.
Tubing, wine tasting, or wiling away the day in the historic town of Gruene are a few favorite activities in the area. Picnicking in Landa Park, window shopping in Downtown New Braunfels, or hiking and biking on some of the most scenic trails in the state are a few more reasons New Braunfels is one of the fastest-growing cities in the nation - as well as a great place to live, raise a family or retire.
Within the Vintage Oaks community, an abundance of amenities and special events keep residents happy and busy. From the Olympic-size swimming pool and lazy river, to the ponds and trails, to the tennis courts and ball fields, Vintage Oaks offers a wealth of options for staying active. Throughout the year, classes and events in the Clubhouse provide opportunities for learning and making new friends.
Here, there is so much to do that you may never want to leave. But when you do, you'll be happy to know that the dynamic cities of Austin and San Antonio are both conveniently close.
So much to come home to
Vintage Oaks' landowners and residents can't get enough of this community. And they can't say enough good things about it either. Once people become part of the Vintage Oaks family, they can't wait to invite members of their family and friends to do the same. Twenty percent of the community's sales in 2013 came from owner referrals!
A good reason for all this love? The array of land and home choices that give veterans exactly what they want in their preferred location.
Vintage Oaks offers a variety of land buying options from 1 to 14 acres including gated and non-gated neighborhoods, private cul-de-sacs, heavily wooded homesites and panoramic Hill Country vistas. Also now available at Vintage Oaks is The Reserve, the first neighborhood to offer home-lot packages. The Reserve offers a private entry, dream floorplans from David Weekley Homes and Ryland Homes, access to the same amenities as the rest of the community, and a quicker build process that allows buyers to come home to Vintage Oaks even sooner.
For more information about Vintage Oaks, call (800) 797-8053 today to schedule your private tour or email us.