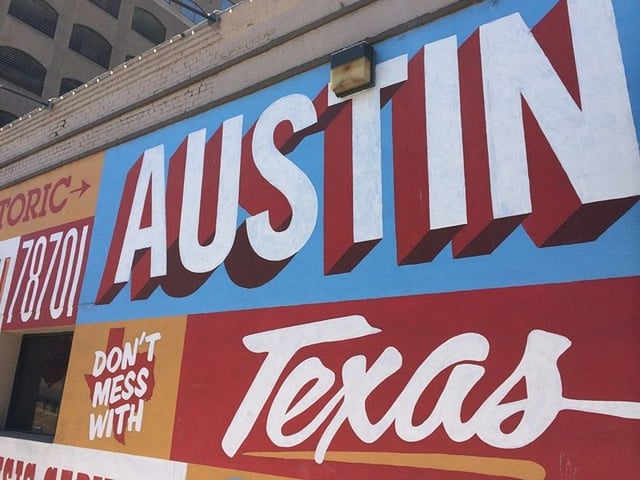 Among all the other impressive news about Austin (and there's a lot to choose from), this just may be at the top: According to a study by WalletHub, Austin has performed better than any other city since the recession.
The study ranked the fastest-growing economies "based on key metrics from 2008-2014, including population growth and the rate of decrease in unemployment, among other factors," said the Austin Business Journal.
They include:
Working-Age Population Growth
Poverty Rate Decrease
Median Household Income Growth
Growth of Regional GDP per Capita
Growth of Median House Prices
"Austin topped all large cities with a cumulative score of 67.91. Two other Texas cities — Fort Worth and Corpus Christi — are in the top five on the large-city rankings — at No. 3 and No. 5, respectively," said the Business Journal. "Also in the top five are Miami, Florida, at No. 2, and Denver, Colorado, at No. 4." The publication also noted that when rankings were merged, with size restrictions removed, Austin was still No. 9 for economic growth nationally.
Austin's economy continues to grow thanks to a strong job market—the city has the second-lowest unadjusted unemployment rate in the state as well as noted employers like the University of Texas at Austin and Whole Foods Market—not to mention a swelling population that shows no sign of slowing. Austin is the fastest growing metro in Texas and third in the nation. According to Slate, the city is "blowing away every other big city in population growth."
"Austin, Texas, keeps tearing along as the fastest growing big city in the country. According to census figures released today, its population shot up 2.9 percent during the 12 months that end in July of 2014. Among the 50 largest American cities…the next closest on the list was Denver, which managed 2.4 percent growth. Which is to say, no other major city even came close to Austin's pace of expansion, much as has been the case ever since the recession ended."
As Austin goes, so too do nearby cities like New Braunfels, which, while considerably smaller than the Texas state capitol, is the 13th fastest growing city in the nation. This city located between Austin and San Antonio along the I35 Corridor is a favorite spot of Texas real estate buyers seeking convenience to both cities with a small-town feel, an abundance of nearby amenities, and Hill Country scenery.
Another strong driver for those buying real estate in New Braunfels is its job market, with sustained job growth and new employers and businesses coming to the area. Most recently, Amazon announced plans for an 855,000-square-foot facility in San Marcos with up to 1,000 new employees and HEB is building an HEB Plus featuring a 120,000-square-foot store and 29,000 square feet of retail with a gas station and car wash on New Braunfels' Northeast side, adding another 100+ jobs.
Housing data reported by the New Braunfels Herald-Zeitung shows that New Braunfels' growing population is impacting its real estate market, with inventory shrinking.
"Low interest rates, a desirable location and a healthy local economy with a low unemployment rate continue to drive a New Braunfels housing market," they said.
Inventory is down while median home prices are up. In response, New Braunfels masterplans like Vintage Oaks continue to accelerate property releases to meet buyer demand. Vintage Oaks is the fastest-growing community in the Hill Country, beloved for its ideal location on the Texas Wine Trail, breathtaking views, resort-style amenities and abundance of acreage Hill Country land and homes for those looking to buy Texas real estate.
For more information, visit Vintage Oaks or click below to view the newest release of hillside homesites.