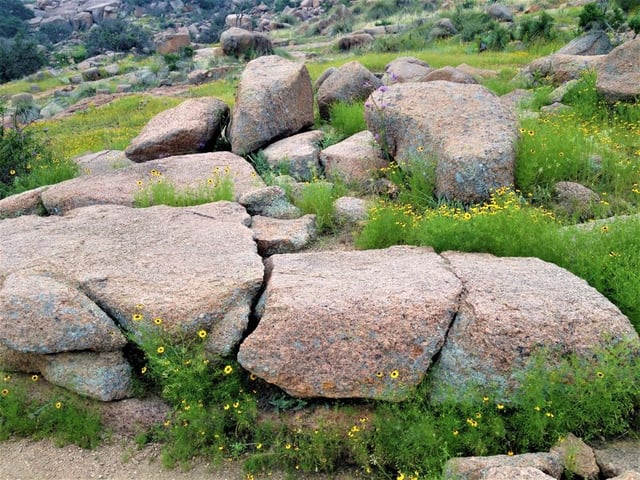 One of the many great things about living in the Texas Hill Country is how much there is to do. You'll never be bored here, and if you're looking to spend a weekend exploring and having fun with the family, you've definitely come to the right place. Here are seven ideas for great Hill Country road trips close to New Braunfels.
Fredericksburg
The highlight of Enchanted Rock State Natural Area is, of course, "The massive pink granite dome rising above Central Texas" and the beautiful Hill Country views it affords. But there are actually 11 miles of hiking trails here, plus campgrounds. Fredericksburg is famous for its antique stores and unique shops, and you'll also want to check out Marburger Orchard, where you can pick your own peaches, blackberries, and strawberries.
Johnson City
With so much to do in this Hill Country city, you may need more than a weekend. Lyndon B. Johnson National Historical Park offers tours of LBJ's childhood home and fascinating aspects of his early life. Swim, hike, mountain bike, or just take in the beauty of this limestone-packed wonder at Pedernales Falls State Park. Take a guided or self-guided safari tour, and even stay overnight in the on-site cabins that put you in the middle of the site, with access to petting zoos, at the Exotic Resort Zoo.
San Antonio
The Alamo City is a short drive from New Braunfels, making it an easy jaunt for a day trip, but with so much to see and do, you might just want to stay a while. No trip to San Antonio would be complete without some time at The Alamo and, of course, the Riverwalk, with tons of restaurants, shops, and river boat tours. The city also has some great family museums, including the DoSeum Children's Museum, a STEM-based hotspot, the Witte, the Briscoe Western Art Museum, and the The San Antonio Children's Museum. And don't forget Sea World and Six Flags for a day of adventure!
Gruene
Living in the Texas Hill Country means interesting and unique spots are everywhere, and Gruene is a perennial fave. Book a night or two at the Gruene Mansion Inn, listed on the National Register of Historic Places and designated a Texas Historic Landmark, and sink into the historic charm of this quaint town right in New Braunfels. Located in the middle of the Historic Gruene District, it's a great home base for a weekend spent exploring great shopping and dining, like at the famous Gristmill River Restaurant and Bar, a one-time cotton mill. The kids will love a trip to the Gruene General Store, famed for its homemade fudge, and the whole family will celebrate a trip to Gruene Hall, one of Texas' oldest dance halls.
Austin
Many people who live in New Braunfels make the easy drive to Austin for work every day, but it's much more enjoyable when you have a weekend road trip in mind. Barton Springs Pool is a favorite family hotspot in the summer, thanks to its beautiful scenery and 68-degree water. Head to Zilker Park for a family picnic and a relaxing view of the river, and don't miss the millions of bats emerging from under the Congress Avenue Bridge at sunset. You'll be in good company if you decide to go to the famous Franklin Barbecue. If you're prepared to stand in a long line, you'll be rewarded with what is thought to be the best barbecue in the state.
Boerne
If a leisurely stroll along quaint shops and art galleries sounds good, you'll love a trip to Boerne, and, especially, its Hauptstrasse, or Main Street. Cave Without a Name is a National Natural Landmark and a living cavern, and Cibolo Nature Center offers 100 acres of wilderness, with trails and walking paths bordering Cibolo Creek.
Canyon Lake
Just minutes from New Braunfels, Canyon Lake offers a multitude of water-related activities, including swimming, boating, and some of the best fishing around, with largemouth bass, smallmouth bass, Guadalupe bass, white and striped bass, and catfish, plus hiking, biking, and horseback riding on the lakeside trails.
For more information about living in the Texas Hill Country, visit Vintage Oaks. The fastest-growing community in the area for four straight years, Vintage Oaks is located in the heart of New Braunfels on the Texas Wine Trail, with Hill Country land and homes for sale and a host of resort-style amenities including a Tuscan clubhouse, multiple pools, a lazy river, ball fields, and miles of walking trails.
You can also learn more about The Grove, Vintage Oaks' new community of low-maintenance homes, below.