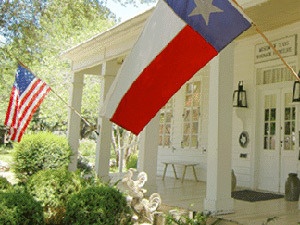 New Braunfels isn't just a wonderful place to take in the scenery, enjoy one of the many popular activities, and spend a day, or a lifetime. It also features a deep history that provides a look into New Braunfels history and what early German settlements were like and the effect they have today on the city's unique culture. Fun and educational at the same time, New Braunfels' Heritage Village is a can't-miss among so many other spots the city has to offer. "If you want to really get a feel for what the Texas pioneers lived like, do NOT miss it," said Tripadvisor.
Getting There
Located on 11.5 acres near downtown New Braunfels off of Loop 337, Heritage Village is a feast for the eyes and the mind. Arriving at the complex, you are greeted with a limestone entrance and a sea of Texas wildflowers and towering oak trees.
What To See
At Heritage Village, you'll find an array of historic buildings that have been brought together from different locations over the years to form a "living history." Here you'll see:
The historic 1858 Breustedt-Dillen house, a white fachwerk-style Texas farmhouse that is the home of the Museum of Texas Handmade Furniture. The Breustedt-Dillen house is a registered national, state and city historic landmark.
The Museum of Texas Handmade Furniture with more than 70 original Texas Biedermeier pieces "(circa 1845 – 1880) including prominent local German cabinetmakers Jahn, Stauzenberger, Scholl and Tietze," according to their website
The 1850s limestone and log structure, which sits at the back of the Breustedt house and includes a summer kitchen and smokehouse.
A cabinet shop located in a barn where antique furniture makers' tools are displayed

The 1847 Reininger log cabin, a two-room structure that offers a firsthand look at how early German settlers lived in New Braunfels

The Solms School, a Comal County schoolhouse from the early 1900s
The Specht farmhouse, which is currently being restored for use a Visitor's Center
Tours and Special Events
Costumed docents provide tours of Heritage Village, taking guests through various parts of the property and including "a brief history of the house and its occupants as it relates to the German immigration to Texas."
Special tours are also available for fourth and fifth grade students focused on "Texas and Colonial history by providing a structured daylong series of living history experiences that makes learning history a participatory event." This seasonal event is offered in April and May by appointment.
FOLKFEST is another great time to visit. This is when the Heritage Society of New Braunfels puts on an annual "Family Heritage Festival" on the grounds of Heritage Village. The event includes "living history re-enactments, pioneer craft demonstrations, free furniture museum tours, children's activities, musical entertainment and delicious food" plus a costumed children's parade.
Heritage Village is closed December and January.
For more information, visit their website.
If you are not yet a resident of New Braunfels and would like to be, there are a number of communities and land buying opportunities that await. For more information about Vintage Oaks, the fastest-growing master-planned community in the Texas Hill Country, visit Vintage Oaks. Or, for more information on living and retiring in the Hill Country, download our information guide below.