How Building a Home Can Expand Your Space and Your Lifestyle
Building a home is advantageous on many levels; the ability to work with a builder that understands your vision and can customize your space, the choice of location and the list goes on and on. Every homebuyer is looking for specific characteristics in a floor plan when they decide to build a home, and for many it's the lure of an open, spacious environment. Marcie Geffner with New Home Source discovered several features that can give you both actual square footage and the impression of more space.
Strategically-Placed Windows
Windows bring light into a home, making it feel brighter and giving the environment a more open feel. However, more windows are not always best. No longer do builders add as many windows as possible when building a home. Floor plans allow for large windows to be placed in the areas and rooms that give the best views of the surroundings of the home.
Michael Malone, owner of an architectural firm in Dallas, says that this overhaul in how builders think about windows came about for several different reasons, "Years ago, (the thinking was) put in as many windows as you want and add on as many air-conditioners as you need to make it work," he says. "Today, we have better glass and builders and architects are paying more attention to how to maximize where each window goes so it adds light, but not a lot of heat. It's about being sensitive to placement."
An Open Floor Plan
This concept isn't just a buzz phrase in homebuilding. More and more homeowners want to add what Geffner calls a "connectedness" to their living spaces, interior and exterior. This not only makes a home feel and look larger, but it gives the layout of a home great flow as well. Now, builders aren't just connecting the interior spaces of homes, they are building exterior spaces that allow for a more fluid style of indoor/outdoor living.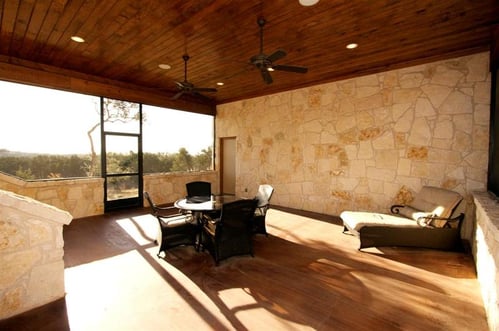 The Necessity of a Second Floor and Ceiling Levels to Go With It
This is where the illusion of a bigger home is brought to reality. As Geffner points out, today's homes are getting bigger and in most cases because of the size of available lots, the only direction to go is up. Adding a second floor that opens up to the first can make your home appear bigger and give you the additional space you need. Want to make your two floors seem even bigger and your rooms seem larger? Move away from a standard height ceiling and plan for 10 or 12 foot ceilings instead.
Are you thinking about building a home that will give you more space? At Vintage Oaks, we have many featured builders to choose from that offer a wide selection of larger floor plans. Plan your tour to Vintage Oaks today and see the homesites we have to offer to build your dream home on.