Building a New Home and the Advantages That Come With It
To build a house or to buy a house? That is the question on the mind of many current homeowners looking to enter the housing market for another time. While they both have their own advantages and disadvantages, it should be noted that the pros of building a new home greatly outweigh the pros of buying a used home. Take a look at some of the reasons why home buyers are preferring to build a new home over taking a used one.
Finally Get Your Dream Home
This is one of the most exciting and appealing advantages of building a home. Essentially you get to start from the ground up and create your dream home, the home you have always wanted to live in! When you buy a used home it's filled with features, wants and desires of the past owner, not you. Building a new home ensures that your taste is reflected in every aspect. From the fixtures, to the windows, to the flooring, your style can be fully expressed.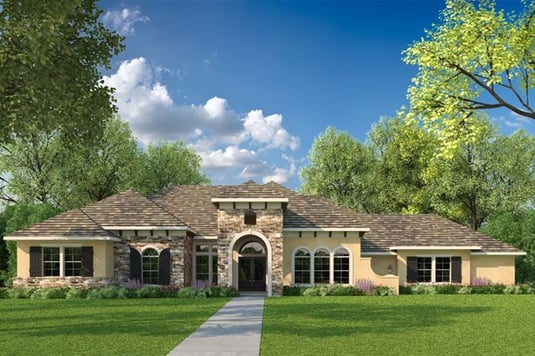 Image Source: David Weekly Homes
Avoid The Looming Fate of Replacements
Yes, a used home comes with the appliances, at least some of them, but how long until you have to replace them? Are they out of date? Not your taste? Broken? Finding a used home with appliances that check off all of these boxes is hard to find and may even end up costing you more in the end. Building a new home allows for a guaranteed safety net. Want a stainless steel double oven? A new home means this is possible. You can get the latest models, be assured that the materials used are of the newest quality and best of all, they all come with warranties. These perks will allow you to enjoy your home and the appliances in it without the looming fate that you will one day, most likely in the near future, have to replace the old appliances.
Less Work in the Long Run
The homes we build today are built for the lifestyle that we currently live. Houses built five years ago have features and floor plans that reflect certain loved aspects of that time. Even in the short span of just a couple years, we have evolved and new ideas better assist the lifestyle of the present. Furthermore, the materials used to build homes in the past have changed and upgraded. Today they are newer, better and more reliable. Like a used car, a used house has features that once may have been popular or state of the art, but now technology has advanced and newer concepts have emerged leaving the old product with more time and effort spent towards maintaining than actually enjoying.
We know that building a new home that you will love and cherish for years to come can be stressful, but we want to take away some of that pressure. Check out our guide on Choosing a Hill Country Builder and let us help you get started.