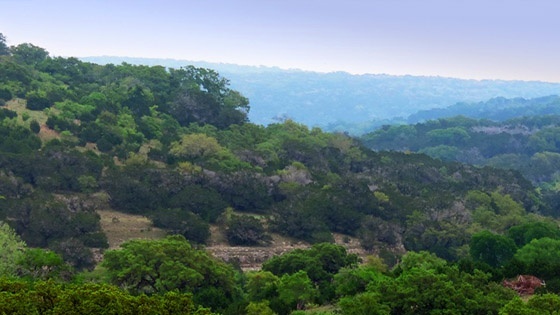 A GREAT LOCATION, The RIGHT LOT, AND MORE
If you've decided on buying land in the Hill Country, congratulations! And welcome! You're about to embark on an exciting journey, and soon you will be able to stand proudly on your land and celebrate. But, first, you have some decisions to make, and with so many great options out there, and so many types of land types and areas in which to buy, it can seem overwhelming. Apply these five tips to help you make all the best decisions.
1. Choose the right location
The Hill Country is made up of populated cities and remote areas. Locations where you can be in the heart of growth and all the excitement surrounding it, or in a setting that feels as comfortably relaxed as it did decades ago. Choosing how you want to live on is key to choosing where to live. No matter what's important to you—great schools, involved neighbors, and a quick drive to Target? A country lifestyle where the only faces you see for days are those of your family, and your horses?—you can find it here. And if you don't quite know what you want yet, that's not a problem, either. Get online or drive around and enjoy the spectacular scenery. Ask the store owner, the bar patron, the people hanging out by the pool in the Hill Country masterplanned community you're touring, and the real estate agent whose job it is to know the area inside and out. Every word and every new piece of information will go toward helping you narrow down the possibilities so you can land on the perfect option.
Once the picture of where you're going to buy land in the Hill Country starts to become more clear, it's time to start thinking about:
2. Select the right size lot
Are you looking for one acre or 10 (or more)? You may think you need to buy land in the Hill Country far from "civilization," but, in some masterplans, you can find a range of lot sizes that satisfy your desire for ample acreage or a smaller piece of land that is still far beyond what you could find in a traditional new-home community. Keep in mind that the size of the lot will help determine how much it costs. You'll also want to consider the maintenance involved in large acreage—especially if this is your first time buying land in the Hill Country.
Your real estate agent and the sales professional in the communities you're interested in can be of great help in locating lots for sale that meet your needs—and help you stay within budget.
3. Figure out the type of house you want to build
Real estate agents can also be of great help in identifying factors that could affect your decision when buying land in the Texas Hill Country, like specific rules governing home size, the types of structures you can build, and building timeframes. It may be that the community you are considering won't allow multiple structures on the same piece of land, or they demand that you build right away and use one of their preferred builders while you'd rather have more flexibility.
4. Assess the topography
Having some idea of what kind of custom home you want to build is also important when assessing the topography of individual lots. You may envision a heavily wooded site, but how will clearing the lot to build your home affect the way it feels? A lot with a slight slope may be ignored by someone who anticipated a flat expanse, but it could actually work in your favor if you're thinking of building a pool with a terraced rock waterfall.
Your sales professional should be able to pinpoint the lots that are best suited for your desired home, and the builder you choose should be able to help guide your choice according to the potential impact on your budget and build timeline.
5. Choosing a builder
Choosing the perfect lot on which to build your dream custom home in the Hill Country is like buying a high-performance sports car and letting your inexperienced 10-year-old service it. The right builder will be able to take your vision and bring it to life—or help you build a vision if you're starting from scratch—all while keeping your budget in mind. If you don't already have a builder, you can get some tips on making the right choice here.
For more information about buying land in the Texas Hill Country, visit Vintage Oaks. You can also request a copy of the new interactive map, which shows newly released and available Hill Country properties, below.