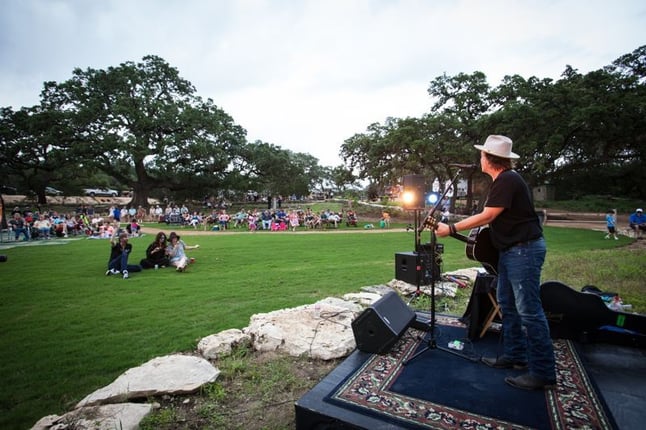 The Hill Country has established itself as a national music powerhouse with established acts and up-and-coming artists performing nightly in a variety of great venues. A new venue that combines excellent acoustics with stunning natural beauty is being heralded as the newest hotspot on the Hill Country music scene, and Texas singer/songwriter Deryl Dodd will be the next renowned musician to perform there. Dodd will be in concert at Timber Ridge Park at Vintage Oaks on Tuesday, Sept. 15, from 6:30 to 8pm.
Dodd will play live at the park for guests, who will also enjoy a variety of dining options from food trucks and wine and sangria from Dry Comal Creek Winery. Bring your dancing shoes and a chairs or blanket so you can spread out on the Timber Ridge Park Lawn. You can RSVP for the concert here.
Dodd is a Texas-born honky tonker who was encouraged to explore his music after a career-ending football injury while attending Baylor University. Soon, his talent had made him a popular local star, leading to a stint in Nashville, a spot on Martina McBride's tour, and an opening gig on Tim McGraw's national tour. But an acute case of viral encephalitis left him unable to tour with McGraw and bedridden for six months. After rehabilitating for a year and a half and relearning the guitar, he was back on the scene, gathering even more fans. Healed and recommitted to the music that has earned him a vocal fan base, Dodd will be bringing his impressive talent to Vintage Oaks, where he will perform many of his notable songs including his hit "Back to the Honky Tonks."
This will be the third concert at Timber Ridge Park since its dedication earlier this year. Texas band Shinyribs and country star Jack Ingram played to hundreds of eager fans over the summer, and the turnout and exuberant crowds further prove the value of this unique spot.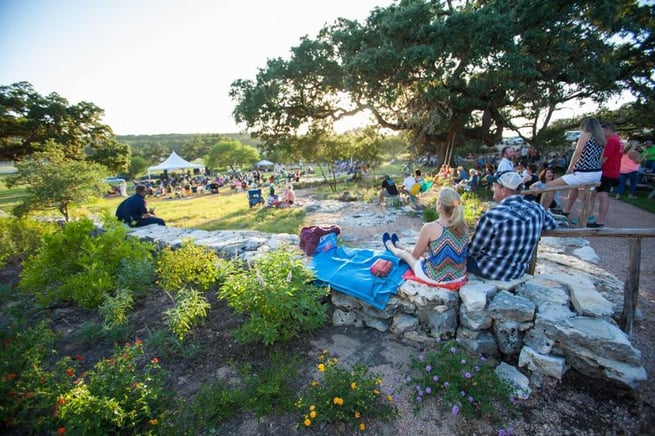 Visitors and residents are reveling in the scenery with lush surroundings framed by centuries-old oak trees and Hill Country views, ample benches, swings that hang from majestic oak trees, and a vast green lawn.
Another special feature of Veteran's Walk is the commemorative stone pathway created from individual veterans' stones, some with service dates back to the American Revolution that honors veterans. Timber Ridge Park is also connected via walking trails to newly released homesites in the Timber Ridge neighborhood. These coveted properties offer heavily wooded, one-acre-minimum lots at an elevated location with expansive views of the rolling terrain.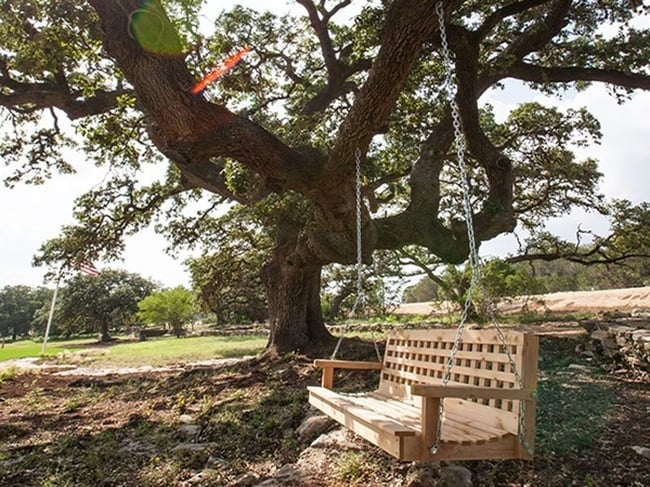 Thanks to its location in the back corner of the community, Timber Ridge presents a distinctive blend of privacy with a greenbelt surround and convenience, within walking distance of resort-style amenities including the Olympic-size pool, lazy river, Tuscan Clubhouse, and ball fields.
Vintage Oaks is the Hill Country's favorite masterplan, with sales that have made it the fastest-growing community for two years in a row and new housing starts in the $300s that lead the market in 2014, according to MetroStudy.
For more information, visit Vintage Oaks or click below to download our free Guide to Living in the Hill Country Music Scene. RSVP for the Deryl Dodd concert here.