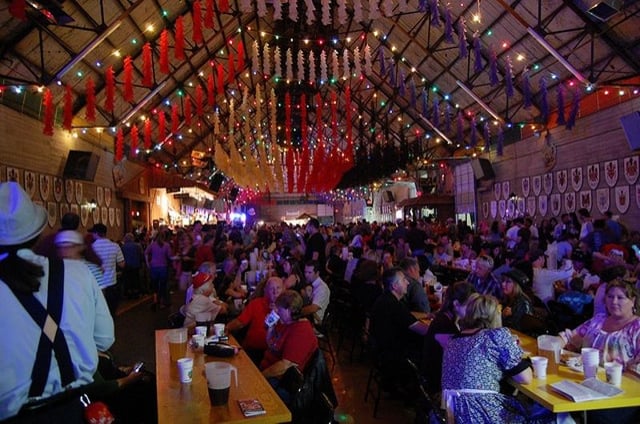 Grab your lederhosen, and bring a hearty appetite. It's time for Wurstfest, the No. 2 Oktoberfest in the nation, as voted by the readers of USA TODAY and 10Best, and one of the Hill Country's favorite events. This year's Wurstfest is Nov. 4–13.
Wurstfest showcases the Hill Country's German heritage in a unique annual celebration. Sample traditional German fare, dance to live music, hit the carnival rides, and enjoy the German, Texan and domestic beer. You'll also appreciate that Wurstfest helps to raise funds for New Braunfels area improvements and community projects.
This "10-day celebration of sausage" is the area's most popular event, with tens of thousands of visitors who'll be pouring into New Braunfels. And this year, they'll have even more to get excited about, with new features including:
Kinder Nacht, a special night dedicated to family fun on Wednesday, November 9. There will be special activities for children under 12, discounts on unlimited-ride carnival wristbands, and a show by storyteller Laure Jane McDaniel at the Kinderhalle at 6:30
This year, you can get one free ticket for every paid adult ticket (children under 12 are free), with no limit. Coupons are valid Sunday, Oct. 6 to Wednesday, Oct. 9.
The new Wurstfest app has been released, giving you access to the real-time event schedule, online ticketing, and an interactive map
Also this year, Stelzenplatz is back, with "even more food, beers, shopping, and room to roam!," said Wurstfest. After making its debut in 2014, Stelzenplatz will once again offer an expanded area along the Comal River just below the Stelzenhaus hall, with:
A market with15–20 vendor booths featuring Bavarian food, clothing, and other merchandise
A craft beer garden with 30 different craft beers and 5 domestics
A live music stage—check the schedule

of acts performing
A biergarten where you can enjoy your beer along with live music
More carnival rides
A fleet of four food trucks offering a variety of food
If you're coming in to New Braunfels for Wurstfest, be sure to set aside some time to visit Vintage Oaks. If you haven't been here for a while, you may be surprised at how much the community has grown, with new neighborhoods, new Hill Country land for sale, and many more semi-custom and custom homes in New Braunfels. In fact, Vintage Oaks has been the fastest-growing community in the San Antonio MSA for the past three years.
For more information, visit Vintage Oaks or click below to start your search for New Braunfels land and homes for sale.