Events in Gruene That Are Off the Beaten Path
The town of Gruene, Texas may be small, but it's anything but sleepy. Gruene is three miles north of New Braunfels, pull off the main road and you'll be ready to step back in time for a spin at the oldest dance hall in Texas. A little history lesson about the town, it was founded in the 1800's but after being hit by the Depression and fighting a losing battle year after year with the boll weevil, the town was in shambles by the early 1970's.
In 1974, Chip Kaufman, a University of Texas architecture student, was exploring this area and spotted Gruene's water tower off the Guadalupe River. Kaufman was also working with the Texas Historical Commission during this time and convinced the recently new owners of several of the town's buildings of the significant value of the town. In 1975, Gruene was placed on the National Register of Historic Places. The rest is town history.
These are the events that Gruene Hill Country Magazine suggests you should add to your travel itinerary.
Take the entire weekend when you pay Gruene a visit. The Gruene Mansion Inn is the place to stay while in town. The mansion and other buildings on the grounds have been converted into a historic bed and breakfast consisting of 30 guest rooms overlooking the Guadalupe River. Enjoy your breakfast and then head over to do some shopping or walk down to the river bank.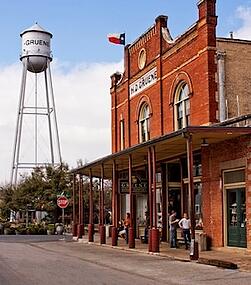 Image Source: Gruene Historic District
Tons of unique shops sit on every corner of Gruene and are filled with anything a peruser of Texas wares could imagine. Fickle Pickles Antiques and Pickles boasts one of the best pickle recipes in the world. They ship their pickles everywhere; they have even shipped them overseas to troops in Iraq. If you are more into the arts, check out Buck pottery. The owners, Terry and Dee, have been in the pottery-making business for over 30 years, creating pieces ranging from decorative vases to kitchenware.
Gruene Hall has been the social center of Gruene since the 1800's and the only building never to close in the town. Like other buildings in the historic district, it experienced a renovation in the 1970's and now each week big names in music perform at events in Gruene. Famous musicians such as George Strait, Merle Haggard, Willie Nelson and Ziggy Marley have performed at the dance hall.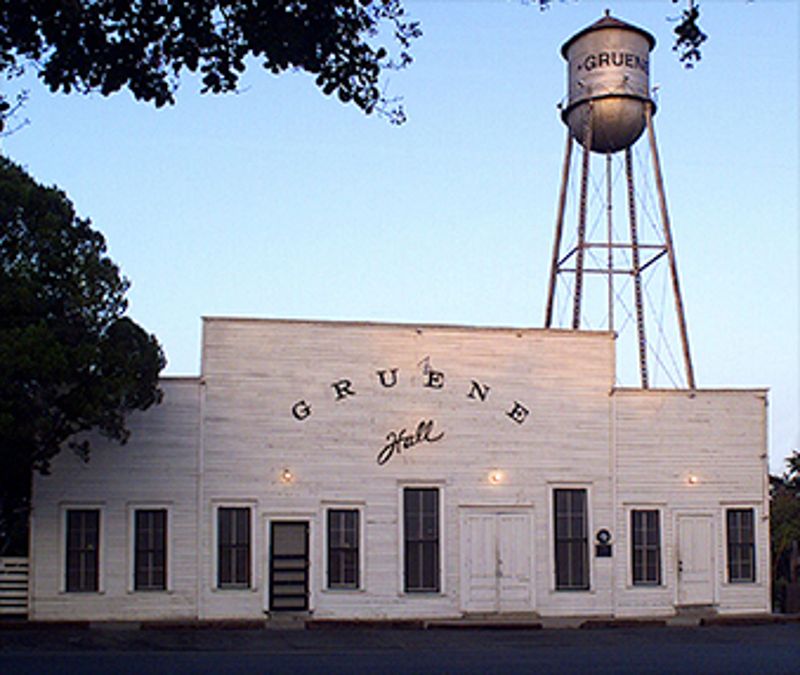 Image Source: New Braunfels Chamber of Commerce
Everything about Gruene is the epitome of Texas culture and that's exactly what we strive for at Vintage Oaks. Check out these events in Gruene this weekend and stop by and see Vintage Oaks for yourself.