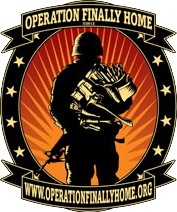 If you're in New Braunfels today, you'll have a rare opportunity to meet Texas Governor Greg Abbott and benefit non-profit organization Operation FINALLY HOME (OFH), which builds mortgage-free homes for wounded American soldiers and their families, at the same time. Governor Abbott will be appearing at Hastings, located at 651 Business Loop IH-35 in New Braunfels, today at 4:30pm to sign copies of his new memoir, "Broken But Unbowed: The Fight to Fix a Broken America."
"In Broken but Unbowed, Governor Abbott describes firsthand what it was like to be on the battlefield in the historic fights that have refined the Constitution and the lessons he's learned along the way, offering solutions that will bring us back a government that lives up to the American Dream," said Amazon. Hastings will have 500 books on hand, with proceeds from the sales going to OFH.
OFH is based in the city of New Braunfels, and the charity has worked with SouthStar Communities and Vintage Oaks to build four mortgage-free custom homes in the Hill Country masterplanned community. Overall, 11 homes for American heroes have been built throughout Texas and the southeast through the pairing of SouthStar and OFH. OFH has provided 100 mortgage-free homes for wounded soldiers all over the country through its partnerships with builders, developers, community partners, and civic leaders.
To find out more about Operation Finally Home, visit OperationFinallyHome.org.
Vintage Oaks is a 3,300-acre community in New Braunfels located on the Texas Wine Trail that offers Hill Country land for sale and resort amenities including multiple pools, a lazy river, ball fields, a system of trails, and a Tuscan clubhouse. For more information, visit Vintage Oaks. You can also click below to learn more about veteran resources.