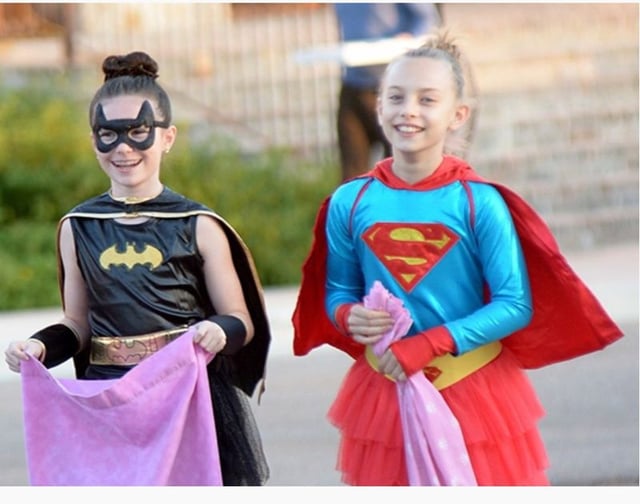 Gearing up to take your kids out trick-or-treating on Halloween? It's what they look forward to all year, but if you have a little bit of parental nerves to temper their excitement, read on. We've culled together some of the top safety measures to take this year for Halloween in the Hill Country.
Be careful with costume choices
Anything clown-related is probably a no-no this year. But beyond that, you'll want to make sure to carefully choose and examine any costumes for your kiddos. First and foremost, every costume you purchase should be marked "flame retardant" and should be sized right to make sure there are no tripping hazards.
With little ones, be aware of buttons, buckles, and other details they may try to put in their mouths. Be aware also of costumes that include masks. Masks can be dangerous if they limit your kids' vision—especially at night when it's already hard to see and they're running for each door in search of treats.
Watch the weather
It never fails that your kids get their costumes all lined up and then the temp drops 20 degrees on October 31, forcing everyone into a jacket-over-costume situation. While you can never predict what's going to happen day to day in Texas, preparing as much as possible ahead of time will allow you to roll with the changes. A cool night may just mean some long underwear underneath your kid's Superman one-piece.
Stop the props
If your kid's haul is anything like ours, they're going to have a giant—and heavy—bag or pumpkin full of Snickers and Twizzlers and Reese's, which probably means you'll end up holding whatever shield or foam bow and arrow they chose to bring with them. Leaving them behind will save everyone the heartache of having an argument over who's going to drag the Poke balls down the street.
Let them glow
You can buy glow necklaces, bracelets, crowns, and pretty much everything else you can think of at the Dollar Store. Color-coordinating your kids will help you to keep track of them on dark streets.
Check the candy
It's what you've probably been hearing since you were a kid: "I have to check your candy first." No need to tell them that also mean you'll be setting aside all the Almond Joys for yourself while checking to make sure there is nothing dangerous or weird in there, and that no packages are open.
Make a plan
Trick-or-treating can get chaotic with lots of kids running around in the dark. Unless you're pushing your little trick-or-treaters in a stroller or have small children that will stay by your side, you'll want to make sure everyone knows what to do if they suddenly find themselves separated from the rest of the group. Arming your kids with cell phones so they can contact you and each other will help all of you to feel more secure on Halloween.
Pull together an easy dinner
Depending on what time everyone gets home from work and is planning on heading out for candy collecting, it can be difficult to get together and sit down for a family dinner. Having something ready in the slow cooker or ordering pizza to pick up on your way home from the office can make it easy to grab something before piling on the sugar. You don't want your kids to be so hungry they're even more insistent about digging into their candy or so tired and cranky they make the experience unpleasant.
Give candy for a good cause
The combination of a long jaunt trick-or-treating and generous neighbors probably means you're going to have way more candy than you want at the end of the night. Put it to good use by donating it to an organization like Halloween Candy Buy Back, which will pay you per pound of candy turned in and then send the sweets to the troops overseas. Local drop off spots in the Hill Country can be found here.
For more information about living in the Hill Country, visit Vintage Oaks, the fastest-growing community in the San Antonio MSA for the past three years. This New Braunfels masterplanned community offers Hill Country land for sale from 1 to 14 acres in both gated and non-gated neighborhoods plus semi-custom and custom homes in New Braunfels, some of which are ready for immediate move-in. Resort amenities include multiple pools, a lazy river, ball fields and trails, and a Tuscan Clubhouse, and the location on the Texas Wine Trail between Austin and San Antonio is one of Texas' best.
You can also click below to see new homes available for sale.