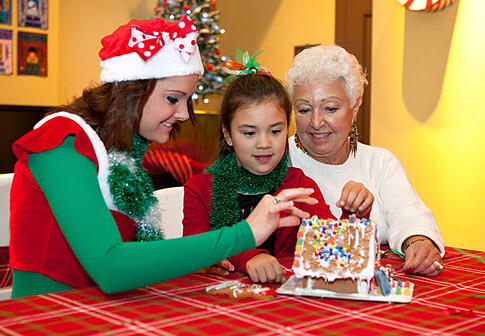 Do you have family coming into town this holiday that need a place to stay? Are you looking for nearby holiday activities? Celebrate at the JW Marriott from now until New Years.
JW Holiday Illumination
The JW Marriott in the Hill Country makes the holidays even more festive! Get in the spirit of the holidays with the complimentary JW Holiday Illumination. Stroll through the Marriott's outdoor twinkling lights choreographed to your favorite holiday music with hot chocolate. This event runs from November 22 to December 31. Shows take place each evening from 6:30 pm to 10 pm on the Crooked Branch Patio.
Keep Calm and Plunge On Contest
If you are brave enough to jump into the pool JW Marriott didn't heat this winter, join the Keep Calm and Plunge On Contest. Prizes will be awarded to the wackiest plunge and for selfies shared at #JWMARRIOTSANANTONIO. Entry is complimentary and T-shirts will be available to purchase. Check the Experience Guide Schedule for dates. Santa will have helpers hanging out poolside to help out.
Santa's Workshop
Come to Santa's workshop and write him a letter. He may even reply during your stay! Create a holiday card of your favorite JW Hill Country Holiday memory and you could win the Holiday Card Contest. Some artwork will be featured on next year's JW Christmas Card Collection. Check the Experience Guide Schedule for dates and times.
Breakfast with Santa & Mrs. Clause
On Saturday mornings, enjoy Breakfast at 18 Oaks with Santa and Mrs. Clause. The cost is $38 for adults and $24 for children ages 5 - 12.
Elf Tuck-In
Santa's elves come all the way from the North Pole to tuck your child into bed during your stay. The cost is $20 and reservations are required.
Storytime with the Elves
Enjoy complimentary storytime with elves who read holiday books to your children.
Gingerbread Craft Workshop
Come to the Gingerbread Craft Workshop for holiday crafts, cookie decorating and gingerbread house decorating. Cost is $15 - $45 for gingerbread crafts.
Pictures with Santa & Mrs. Clause
Don't forget to take your annual picture with Santa and Mrs. Clause that will be looked at for years to come. Purchase a flash drive containing up to five pictures for $25. Photo opps will be every Saturday night at the Texas Library. Call for reservations.
Making of a Certified JW Marriott San Antonio Elf
Learn about the magic of Santa's elves. All good children will be named honorary JW Elves for the 2014 holiday season. Cost is $35 including a holiday gift.
Kids' Night Out
Enjoy a parents and kids night out! While you enjoy a night out, Range Riders Kids' Club will turn into a fun filled themed party and dinner from 6:00 pm - 10:00 pm. Kids will enjoy activities and games and receive a gift. The cost is $65 per child including dinner for kids ages 4-12.
S'mores
Roast marshmallows for complimentary s'mores with peppermint bark chocolate on Friday and Saturday evenings from 5:00 pm - 6:00 pm at the North Fire Pit.
Lantana Spa Specials
Relax with holiday Lantana Spa Specials including a Hot Ginger Cocoa Manicure and Pedicure and Texas Pecan Body Scrub. Call for reservations.
Holiday Spirit to Serve Event
Holiday trees will be decorated by the Living Through Giving Organization, a philanthropic community organization. Come see the trees at the Holiday Spirit to Serve Event.
Sounds of the Season
Other activities at the JW Marriott include Yuletide Carolers and Rudolph Radio.
Reserve your stay and start making holiday memories!